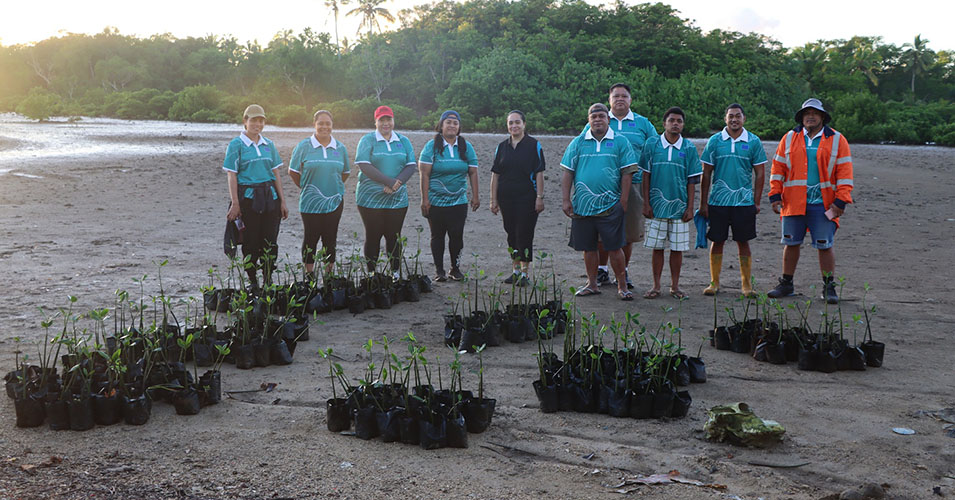 Tonga's Second Nationally Determined Contribution (NDC) to plant one million trees by the end of 2023, continues with the Department of Climate Change.
The Department of Climate Change resumes tree planting projects in coastal areas and schools. On May 12, the department had planted 3,000 mangroves at three different coastal areas in the western district of Tongatapu. These include Fatai, Nukunuku and Te'ekiu.
The department was joined by their Director and Deputy Director for MEIDECC, Luisa Tuiafitu Malolo, Department of Environment, Tonga National Youth Congress (TNYC) and locals of the western district.
The department together with primary schools have planted over 500 trees combined. Halaóvave Government Primary School together with the department planted 300 trees alone in their school compound.
The department stated, Tonga submitted its Second NDC, in December 2020 with ambitious targets for mitigation and adaptation. One of its cross-cutting targets is the establishment of a forest inventory as a condition to identify a greenhouse gas emission target for Tonga's Third NDC in 2025.
Luisa Tuiafitu Malolo told Matangi Tonga, "It's importonant to mention that this is not just a government projecect, NGOs and Private sectors are also contributing a lot." "Churches are now also willing to participate," she said.
Tonga is very close to meeting the halfway mark of the initial target and that she is confident that they wil reach the one million target by the end of the year.