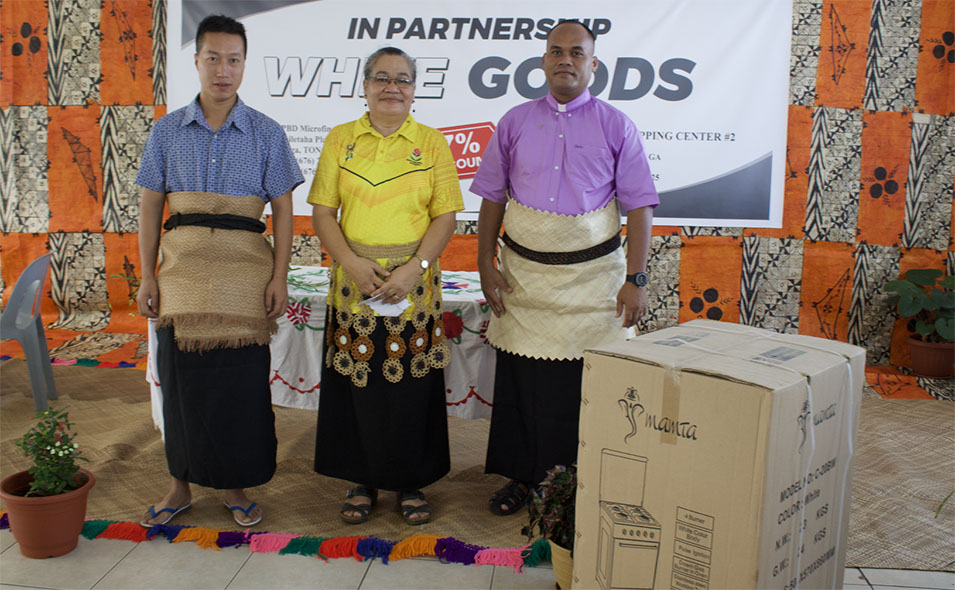 South Pacific Business Development (SPBD Tonga) Microfinance is proud to announce its new business partnership with the Vava'u Shopping Centre #2 on its White Good Financing Loan Program in Vava'u. The Partnership Agreement was signed on 21 April 2023 by the General Manager of SPBD Tonga, Mrs Finelanuatoutai Tu'ipulotu and the owner of the Vava'u Shopping Centre #2, Mr Kong Hao Lin at the Nasaleti Hall, Neiafu, Vava'u.
"This new partnership is aimed at empowering SPBD women entrepreneurs in Vava'u with access to financial resources so that high-quality but affordable white goods and major appliances will be immediate accessible to them in Vava'u. SPBD Tonga opens opportunities to its members through financing so that they can purchase good-quality white goods with pride and dignity from the Vava'u Shopping Centre #2, which is one of the largest White Goods retail stores in Vava'u.
"We are excited to work together with the Vava'u Shopping Centre", said SPBD Tonga General Manager. "Their focus on providing variety of white goods and major appliances to meet the needs of its customer throughout Vava'u, aligns perfectly with our own values, and we believe that joining together for our SPBD members, we can uplift and improve their living standards, support sustainable livelihoods and hope improve their productivity at home".
Ms Lepolo Foliaki from the Vava'u Shopping Centre#2, expressed their appreciation. "This will be a great opportunity for us to work with a well established organisation, who has been in Vava'u for many years. Their Loan program has reached most parts of Vava'u, which will bring new customers to us as well".
"Through SPBD's microfinance assistance, members have been able to establish small businesses. Over time, these businesses have grown requiring larger capital and markets. They also aspire to buy white goods appliances to help their business flourish."
Highlights of the SPBD WGF Loan Program
Simple and quick processing. Easier for the members to avail.

SPBD

members who access this program will receive a 7% discount.
Full package of services including

Business Training
Financial Education Program
Weekly Client interaction
Other Loan Product available

Loan amount ranging between $500-$2,500.
--
Promoted Content sponsored by South Pacific Business Development (
SPBD

Tonga) Microfinance. Ref. Matangi Tonga #7291 2-16 May 2023