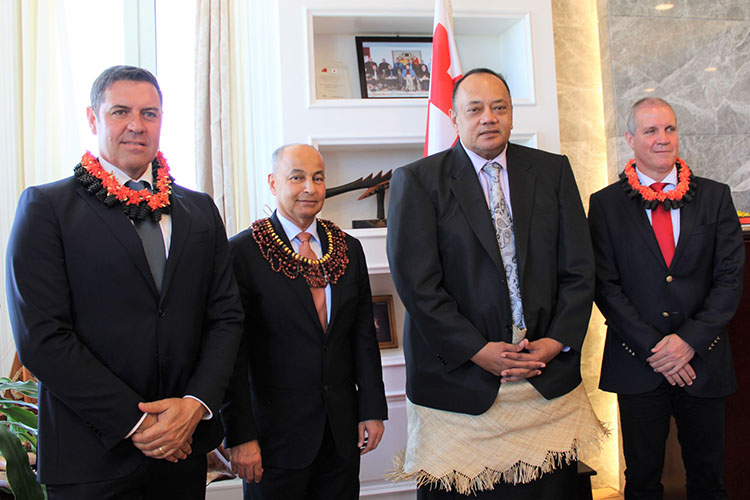 The development of swimming and other water sports was discussed between Prime Hon. Hu'akavameiliku and new FINA President, Captain Husain Al-Musallam, who visited Nuku'alofa for a few hours, on 8 December. 
FINA is the international federation recognised by the International Olympic Committee for administering international competitions in water sports.
PMO stated that Tonga swimming has been part of FINA competitions in the past 10-years and there are hopes that a proper Olympic size swimming pool can be constructed here in Nuku'alofa to help in the development.
Accompanied by the Minister for Sports (Internal Affairs) Lord Vaea, the team held discussions on issues that could help develop the sport of swimming and other water sports here in Tonga. 
Captain Husain Al-Musallam of Kuwait has been FINA President since 5 June, 2021.
He was accompanied by Matthew Dunn of Australia, who is the FINA Second Vice-President since May 2021; António Silva Vice President of FINA and is from Portugal; Josip Varvodic of Croatia, Bureau Member, LEN First Vice President; former Australian Olympic winner Ian James Thorpe and Cate Natalie Campbell, OAM, also a former champion Olympian. 
The "Fédération Internationale de Natation" (FINA) was founded in London July 19, 1908 during the Olympic Games in London.
Eight national federations were responsible for the formation of FINA including Belgium, Denmark, Finland, France, Germany, Great Britain, Hungary and Sweden. 
FINA's headquarter is based in Lausanne, Switzerland, where a multinational staff runs all core operations with regards to each FINA discipline, marketing and communication plans, anti-doping programmes and development policies.