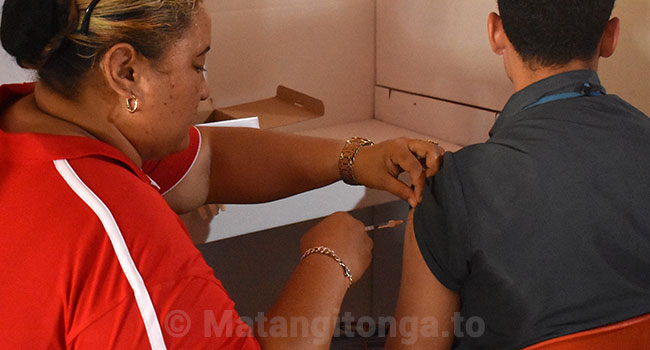 By Eleanor Gee
Youth aged 12-17 who have not yet received their second doses of the Pfizer COVID-19 vaccine have until January 2 to be fully inoculated.
Ministry of Health CEO Dr Siale 'Akau'ola confirmed today these vaccines will expire on January 2.
"Most 12-17 have received their second doses. However, there are still remaining small numbers to be vaccinated and our team are making sure they are all given their second doses."
"We hope that there will not be any more 12-17 year olds who will not get their second dose shots by 2nd of January 2022," he said.
"At the moment, there is no plan to get more Pfizer for them after 2nd of January 2022."
At the same time, some of the available Pfizer doses are being used to provide booster shots (3rd doses) to front liners who had completed their two AstraZeneca vaccines more than 6 months ago.
Dr 'Akau'ola said it is important to note that most of the front liners had their full vaccination doses more than 6 months ago.
Meanwhile, the Pfizer vaccines that were due to expire on December 20 were all used.
The eligible population aged 12 and over can get their vaccinations at the NCD Clinic at Vaiola Hospital. The clinic closed today at 12pm but will resume vaccinations on Tuesday, December 28.
Booster shots
The Pfizer vaccines planned to be donated by Australia in the first quarter of 2022 will be for booster shots (third doses) for those who have completed their two doses of COVID-19 vaccinations.
"We are also talking with New Zealand Government on the possibility of getting donated Pfizer vaccines from New Zealand for our 5-11 year olds," said Dr 'Akau'ola.
Vaccination rate
So far, 96% (73,825) of the eligible population of 76,911 aged 12 years and above have received their first doses, while 79% (61,071) have been fully vaccinated (see table below).