Johannesburg, South Africa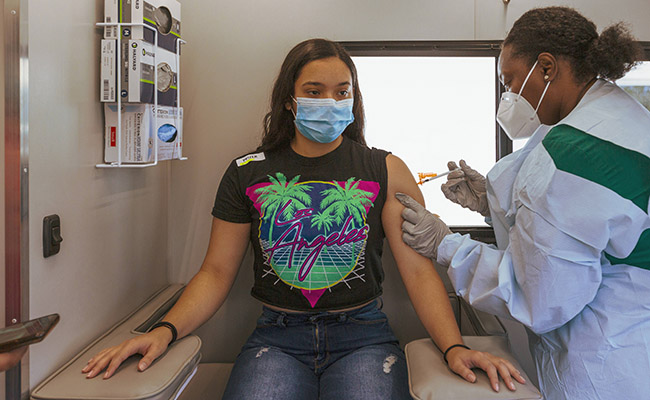 New York Times reporting by Lynsey Chutel
An early study of coronavirus test results in South Africa suggests that, so far, patients infected with the omicron variant may be hospitalized less often than patients infected with earlier versions of the virus.
The study — which was released Tuesday and is based on only three weeks of data — also shows that vaccines are not as effective against the variant, which poses a higher risk of breakthrough infections.
Public health researchers have cautioned that data from a few more weeks will be needed to draw firmer conclusions, in part because omicron has not yet spread widely and because only a small percentage of infected people become ill enough to be hospitalized.
The study, by a private health insurance company, offers a preliminary look at the course of the omicron variant, but there are other possible explanations for the trends that were observed.
For example, infections may appear to be milder overall because more people in the current wave have some protection from prior infection or immunization. Moreover, the mean age of the people in the study was 34, and young people generally tend to have mild symptoms. That may also make omicron infections appear milder than they really are.
But the findings do echo other research showing that while new coronavirus cases have increased exponentially, the trajectory of hospital admissions has been much flatter.
A snapshot of the first three weeks of each of the four waves of infection in South Africa shows that hospital admissions are significantly lower during the omicron-driven fourth wave — 38 admissions per 1,000, compared with 101 per 1,000 during the delta-driven wave, and 131 per 1,000 when the beta variant was dominant, the study showed.
Anecdotally, those who were admitted to hospitals had much milder illness and shorter hospital stays, according to accounts physicians shared with researchers. A majority of patients who needed oxygen were unvaccinated, and only 16% of ICU admissions were vaccinated.
The efficacy of the Pfizer vaccine seemed to wane, decreasing immunity to just 33% during the omicron wave from 80% in September and October after the delta wave had subsided, the study found.
"Omicron has materially reduced vaccine effectiveness against new infections, potentially compounded by waning durability," the authors concluded. Booster shots increased the vaccine's efficacy against infection, but few booster doses are available in South Africa right now.
Still, the Pfizer vaccine's efficacy against severe illness and hospitalization was about 70% after two doses, the study found.
The study also found an increased risk of reinfection with the omicron variant, and waning immunity from previous infections. People who were infected with the delta variant of the coronavirus had a 40% relative risk of contracting the omicron variant, while those infected during the beta-driven wave at the beginning of 2020 faced a 60% chance of reinfection with omicron.
Earlier assessments by South African epidemiologists also showed that a previous coronavirus infection seemed to offer little to no protection against omicron.
A "hybrid immunity," meaning vaccination even for those people who have already contracted the virus, along with all existing non-pharmaceutical precautions, was likely the strongest defense against the highly contagious omicron variant, said Dr. Ryan Noach, CEO of Discovery Health, the private health insurer that conducted the study.
"Notwithstanding the lowered severity, we remain concerned that health systems could still be overrun, frankly, because of the sheer volume of cases," Noach said.
The study tracked 211,000 test results and drew on anecdotal evidence from private hospital and primary health care groups in South Africa. The findings rely heavily on residents who can afford private health care; the vast majority of South Africans depend on state-run hospitals and public clinics.
The study also reported few COVID-19 hospital admissions for children, but it said children seemed to be at greater risk during the current omicron-driven wave. But some of the recent cases were seen in children admitted for other reasons, possibly making it seem as if the risk were higher than it is.
"Children were 51% less likely to test positive for COVID-19 relative to adults in the omicron period, and overall, the risk of children being admitted to hospital for COVID-19 complications remains low," said Shirley Collie, an actuary at Discovery Health who led the analysis.
The South African experience is limited because of existing immunity and vaccinations. With more than 40% of adults vaccinated, the study offers little understanding of how the omicron variant would behave in countries with lower vaccination rates, said Glenda Gray, who led a different clinical trial held by Johnson & Johnson and is the president of the South African Medical Research Council.
This article originally appeared in The New York Times.
c.2021 The New York Times Company