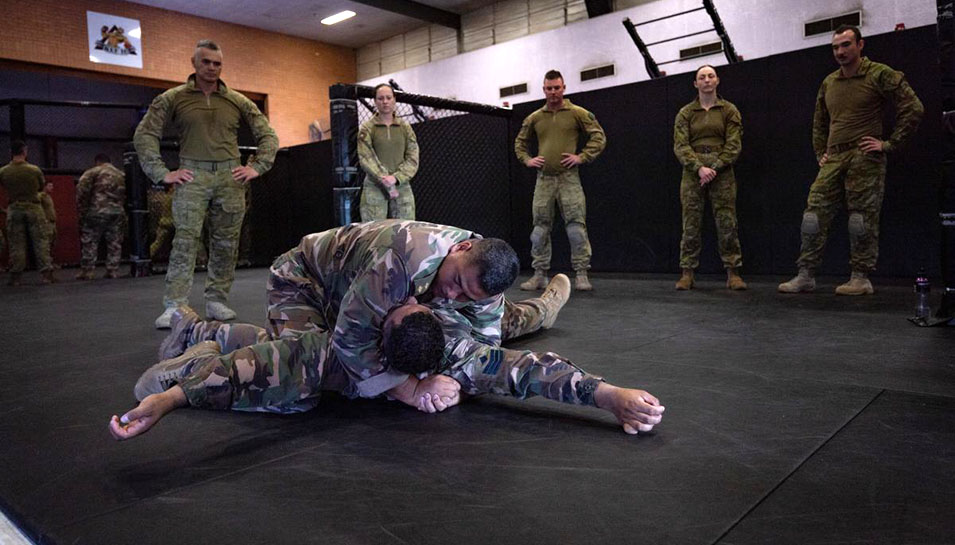 By Captain Jesse Robilliard
Five soldiers from His Majesty's Armed Forces Tonga (HMAF) have the skills to train their fellow colleagues in the Army Combatives Program (ACP), having qualified as instructors following training at Gallipoli Barracks, Enoggera, Brisbane, Australia.
The Tongans have been hosted by 2nd/14th Light Horse Regiment (Queensland Mounted Infantry) while undergoing different career development courses across Army.
Instructor Warrant Officer Class Two Aaron Johnston, from the 7th Combat Brigade Combat Behaviours Centre, said the Tongans were enthusiastic students.
"The Tongans were fantastic, they are natural combative fighters, and they constantly demonstrate modesty, respect, and humility in their day-to-day training activities at the centre," he said.
"They will become a fantastic resource on return to Tonga, I am hoping they would like to link into the 7th Combat Brigade Combatives Centre for ongoing training development opportunities."
ACP is combat-focused, and teaches lethal and non-lethal techniques relevant to soldiers. It is unique in that it offers complete tactical integration of unarmed combat skills with other close-combat behaviours such combat shooting.
HMAF Captain Taufu'i Talanoa said he was thankful for the opportunity to learn new skills.
"The staff were very helpful, you could tell how experienced they are, they really love it," he said.
"At the same time it was practical, they also shared their experiences with us, they have proven ACP in a combat environment."
WO2 Johnston said Tongan culture was ideal for integrating ACP.
"Although the Tongan people have a strong warrior culture, which is common throughout Polynesia, their unarmed combat training tends to be more defensive and sports-oriented," he said.
"They seem to enjoy contact sports which makes them perfect for ACP training and hopefully they will compete in our Combative Tournaments soon."
HMAF Lieutenant 'Esafe Vunipola said he was keen to adopt the Australian Army ACP upon his return to Tonga.
"I think ACP is useful for peacekeeping, where you don't need your weapon," he said.
"I think it's a good skill to take home, even try and maybe incorporate it into our training back home - ACP is simple and easy to remember."
--
Re-published from Defence News © Commonwealth of Australia, Department of Defence
https://news.defence.gov.au/people/tongan-students-become-combative-masters