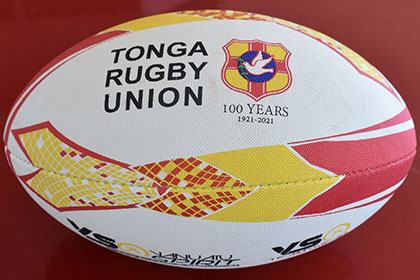 Staff for the 'Ikale Tahi Northern Tour in November will have to stay in a bubble, said the Chief Executive Officer for the Tonga Rugby Union, Peter Harding, in releasing the staff list on October 20.
He said they can take no regular staff from New Zealand or Tonga because of Managed Isolation Quarantine (MIQ) restriction and borders.
"This is a highly professional staff for the COVID era. it is a one-off staff for this tour only."
"Once in a bubble in Scotland we are not allowed to mix with anyone else except staff and liaisons. There will be no-one in and if you leave the bubble you must be tested and wait three days before returning. Similar in England. For this reason we need experts at every level to cover every situation," he said.
Peter said that some of the staff were provided by the Rugby Football Union (RFU) to assist with the managing of the team at no cost to the Tonga Rugby Union. 
The schedule of the 2021 'Ikale Tahi Northern Hemisphere tour:
October 30: Scotland
November 6: England
November 13: French Barbarians
November 20: Romania
The 'Ikale Tahi squad comes together from 10 countries for four games. Not all players will be playing in the four games.
Staff List
(People marked with asterisk* being provided by RFU)
| | | | | |
| --- | --- | --- | --- | --- |
| 1. | Head of Delegation | Peter Harding | Confirmed | TRU |
| 2. | Operations Manager | Alice Sheffield* | Confirmed | RFU |
| 3. | Pastoral Care | Faka'osi Pifeleti | Confirmed | NHS Doctor |
| 4. | Team Manager (not travelling) | Lano Fonua | Confirmed | Tonga July |
--
| | | | | |
| --- | --- | --- | --- | --- |
| 5. | Head Coach (Not Travelling) | Toutai Kefu | Confirmed | TRU |
| 6. | Coaching co-ordinator | Grant Doorey | Confirmed | Tonga july |
| 7. | Attack/Kicking Coach | Richie Rees | Confirmed | Cardiff Blues Attack & Tactical Kicking Coach |
| 8. | Position Coach | Jimmy Duffy | Confirmed | Connaght Forwards Coach (until July), Ireland Under 20s |
| 9 | Position Coach | John McKee | Confirmed | Fiji, Western Force until July |
--
| | | | | |
| --- | --- | --- | --- | --- |
| 10. | Strength & Conditioning Coach | Marc Finney | Confirmed | Northampton Head of S&C until July |
| 11. | Sports Science | Alex Pastor | Confirmed | Catapult Representative |
--
| | | | | |
| --- | --- | --- | --- | --- |
| 12. | Head Analyst | Tom Sorsby* | Confirmed | World Rugby |
| 13. | Assistant Analyst | Tom Mitchell* | Confirmed | RFU |
--
| | | | | |
| --- | --- | --- | --- | --- |
| 14. | Head Physiotherapist | Brett Davison* | Confirmed | 019 Samoa Head Physio, WR Consultant |
| 15. | Assistant Physiotherapist | Chris Rainbow* | Confirmed | RFU & previous Saracens 1st team physio |
| 16. | Quality Control - Medical & Data | Meg Sturley | Confirmed | Private |
| 17. | Team Doctor | Adam Reuben* | Confirmed | Exeter Chiefs Team Doctor & RFU |