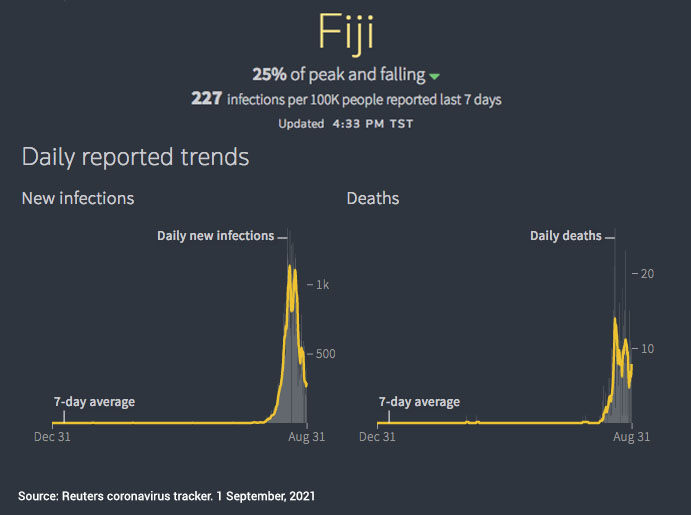 Fiji has recorded 505 new cases of COVID-19 over a 24-hour period ending at 8:00am on August 31. There have also been seven new deaths from the virus, which has now claimed 496 lives there.
The new cases included 343 cases from the western division, 105 from central and 57 cases from the eastern division.
The Pacific Island's Ministry of Health and Medical Services said the seven COVID-19 deaths were from August 27-30. All of them had not been vaccinated with the oldest being a 78-year-old man and the youngest aged 53. 
There has been one death of a COVID-19 positive patient that was classified as death caused by a serious pre-existing medical condition and not COVID-19, said the Ministry.
There have now been 496 deaths due to COVID-19 in Fiji with 494 of these deaths during the outbreak that started in April this year.
As for the vaccinations, 559,650 adults have received their first dose of the vaccine and 271,329 have received their second doses, as of August 30.
This meant that 95.6% of the target population have received at least one dose and 46.7% are now fully vaccinated nationwide. 
Meanwhile, the seven-day average of new cases daily is 318 cases.
The Ministry said they are closely monitoring other indicators such as test positivity, hospitalizations, and deaths to track the progress of the outbreak.