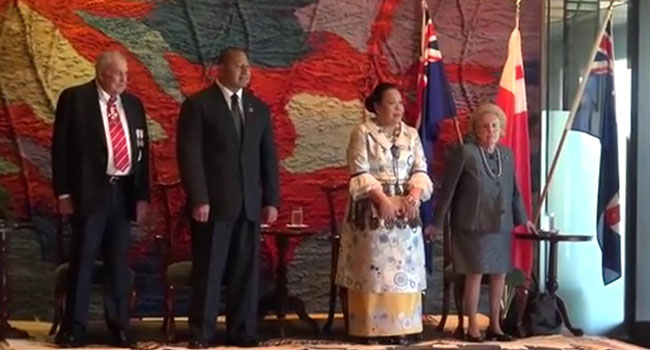 Tonga's Palace Office and the Waterhouse family in Sydney, in separate statements, have today denied amazing allegations made about the late King Taufa'ahau Tupou IV, published in Australian media over the weekend.
"The Palace Office strongly denies any possible connection to His Late Majesty and Tonga as alleged in the stories," the Palace Office said in a statement today. "The Palace recognizes these allegations are a result of a sad, long-running and bitter family dispute with a member of the Waterhouse Family."
The Palace also acknowledged, "the 45-years of formal relationship between the Late William Waterhouse and his daughter Louise Waterhouse – now Hon. Consul General - in representing and furthering Tonga's interests in Australia..." and also their "extraordinary contribution to Tonga over four decades."
Allegations
The media reports concerned allegations made by David Waterhouse about his father, the late William Waterhouse, a former Honorary Consul General for the Kingdom of Tonga in Sydney, who died in December 2019.
On Saturday, the Australian investigative journalist Andrew Rule exposed David Waterhouse's allegations surrounding the 1984 murder of Sydney horse trainer George Brown, alleging Tongan connections. Rule, an associate editor of Australia's biggest daily, the Herald Sun, said the allegations came from an eight-page dossier that David Waterhouse had submitted to the Police.
According to the article, NSW Police who had not solved the case, had announced an AUD$1 million reward for information in 2019.
Rule's new book, Chance, that was launched on Sunday, promised to tell the inside story of the murder, "the worst crime in Australian racing history", and other racing scandals.
Waterhouse family
Meanwhile, in a letter to Matangi Tonga Online today, Suzanne Waterhouse (91) denied the allegations against her late husband and Tonga.
"There is no truth to the stories with regard to my late husband nor with regard to His Late Majesty and the people of Tonga," she said in the letter, forwarded by her daughter, Louise Waterhouse.
Suzanne said she was particularly sad that the late king had been dragged into this family dispute. The letter said her son David was "a discontented soul" and his allegations were untrue. He had been estranged from the family for three decades, and his father had excluded him from his will, making David "cranky".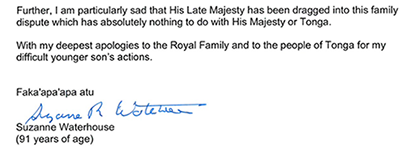 "With my deepest apologies to the Royal family and to the people of Tonga for my difficult younger son's actions,"  Suzanne wrote in her letter to Matangi Tonga Online.