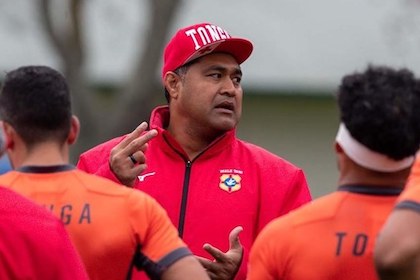 By Pesi Fonua
'Ikale Tahi coach, Toutai Kefu, said tomorrow's match in Auckland with the All Blacks - the best team in the world, "was thrust upon us and we've taken the opportunity and run with it, with both hands."
"For me as coach, I've no expectations at all, I just want the players to get out there and to play as well as they can, the only time they get to play the All Blacks, so it's a big opportunity for them to just do their best and go as hard as they can."
The match kicks off at Mt Smart Stadium, Auckland, at 7:05pm NZ time, Saturday July 3.
The 'Ikale Tahi is a development team. "They're a young team, all willing to learn and very enthusiastic," said Toutai.
They've had two weeks to prepare, which he described as "a luxury for us, it's usually one week."
"We've had a really good week, we've had some challenges along the way and it's always the nature, with the Tongan team, it's unique!"
Warm-up for World Cup qualifier
Tomorrow's match is the first international for both teams for this year, and for the 'Ikale Tahi it's a warm-up for a critical match against Samoa next week.
"We're in with a chance with Samoa, very good, probably 50/50. But Samoa are going to have two games before us, so are much more prepared then we will be," he said.
Some of Toutai's best players are based in Europe and travel was not feasible. However, he said two players currently in quarantine, Ben Tameifuna (Prop) and Malietoa Hingano (Outside Back), will be available to play in the Samoa-Tonga matches.
"They should join us next week, all it depends on how players go in this game. Tomorrow, we're playing the best team in the world and we've got to be realistic. It just depends on how they play under this kind of intense pressure
"You know we weren't really expecting it, the All Blacks game was thrust upon us and we've taken the opportunity and run with it, with both hands." he said
"We've had probably over two months to prepare, plenty of time but I was under the impression that we'd be playing against the Maoris. I don't know what happened with that game. It changed. So they gave us the All Blacks, we've grabbed it with both hands. It is what it is."
The All Blacks last met the 'Ikale Tahi in Hamilton in 2019 when the score was 92-7.
Tonga's two RWC qualifying games will follow against Samoa, on July 10 at Mt Smart Stadium, and on July 17 in Hamilton.
Rugby World Cup 2023
Two qualification places are available across Oceania and Asia.
The winner of a two match play-off between Samoa and Tonga qualifies directly for the Rugby World Cup 2023.
The loser of those two legs enters the Asia/Pacific qualifer against the winner of the Oceania Cup.
Then the winner of that match qualifies for the Asia/Pacific playoff against the winner of the Asia Rugby Championship 2021.
The winner of the Asia/Pacific playoff qualifies directly for the Rugby World Cup 2023 as Asia-pacific 1.
The loser of that enters the final qualification tournament, a global repechage in November 2022.