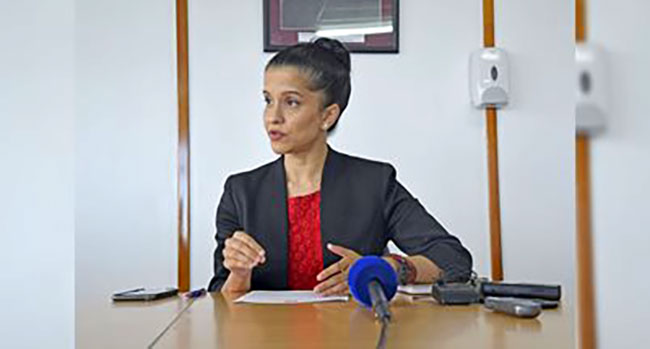 Fiji has 279 new cases, their highest daily case count so far, said Fiji's Health and Medical Services Head of Health Protection, Dr Aalisha Sahukhan on June 23. 
She said out of these cases, 46 are from existing containment zones or quarantine facilities in Nadi, 22 of these from Nawajikuma, eight are from Tramline and 16 are close contacts in quarantine facilities.
The remaining 233 cases are from the Lami-Nausori Containment Zone.
"There have now been 13 deaths due to COVID-19 in Fiji, with 11 of these deaths during the outbreak that started in April this year. We also have recorded 8 COVID-19 positive patients that died from pre-existing non-COVID-19 related illnesses."
Dr Sahukhan said, they also had 18 recoveries reported since the last update, which means that there are now 1892 active cases in isolation.
"A total of 2479 cases during the outbreak that started in April 2021. We have recorded a total of 2549 cases in Fiji since the first case was reported in March 2020, with 636 recoveries, she said.
Testing/Vaccination
Meanwhile, a total of 135,520 samples have been tested since this outbreak started in April this year, with 178,381 tested since testing began in early 2020. 2759 tests have been reported for June 21.
The national seven-day daily test average is 2939 tests per day or 3.3 tests per 1000 population. The national 7-day average daily test positivity is 4.9% and continues on an upward trend. 
Fiji has to date administered first doses to 262,151 individuals since the beginning of the vaccination campaign and second doses to 27,654.
45% of Fijians have received one dose, and 5% have received the second dose. 
Epidemic Outlook
Dr Sahukhan said the increasing numbers of cases in the Lami-Suva-Nausori containment zone clearly indicate widespread community transmission. And the large number of cases in Qauia Lami will further drive up cases.
There are also clusters in Naitasiri and one cluster in Korovou with cases reported in Nadi, but so far they are from within the containment zone in the Nawajikuma and Tramline containment area.
Two cases from the same family were detected in Lautoka, as announced yesterday, the last time Lautoka had a case was on May 9. To date, this outbreak appears contained to Viti Levu, with the Northern and Eastern divisions yet to detect a case.
"As the cases have risen, it has largely overwhelmed our contact tracing capacity in the Lami-Suva-Nausori zone."
"However, this has happened in every other country that has faced this number of cases relative to their population. We still continue to contact trace and implement targeted lockdowns, like what is currently happening in Qauia, to try and slow the progress of the outbreak. All of us are still here working, seven days a week, we are not giving up," she said.
Dr Sahukhan said they are most concerned about the next wave.
"The wave of people with severe illness requiring hospitalization and the deaths that will come with it. We have just started to see the beginning of that wave now. We reported 4 new COVID-19 deaths today and we have nine patients currently admitted at CWM Hospital with severe COVID-19, including a previously well 30-year-old," she said.
"We are not helpless. We have a very important tool right now that the world did not have last year when the pandemic started - an effective vaccine."