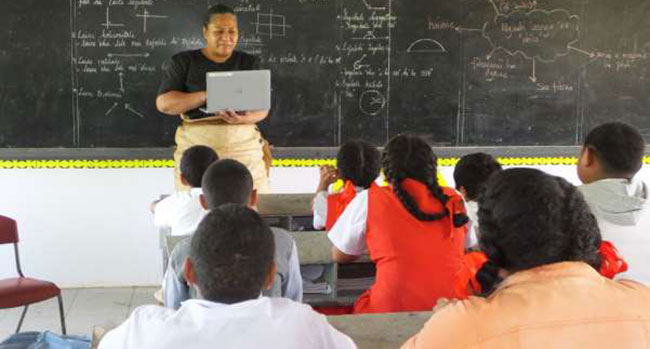 A program to support home schooling will start this month with the Ministry of Education providing a variety of tools to teachers, parents, and carers of students, in the event schools close down due to the pandemic or natural disaster.
Tools include flexible and distant learning guides, and preprepared audio and video lessons in line with current syllabus in schools.
In addition, 80 teacher ambassadors have been selected across Tonga to be trained in distant education using technology.
The Ministry is working with the Australian Department of Foreign Affairs and Trade, Inclusive Education, and Save the Children, to implement the program.
Minister for Education, Hon Hu'akavameiliku said this program is aimed at Tongan children enrolled in early childhood education, inclusive education, and primary schools, and will secure their access to ongoing and quality education should COVID-19 or natural disaster prevent them from going to school.
"We are putting this program in place now to safeguard our children's future."
One of the teachers selected for training, Ms 'Ungo'unga,has been provided with a laptop.
"[These laptops] will help to send and receive the children's study materials on a daily basis. It is crucial for children to get to know and familiarise [themselves] on how to work and study at home. It will have a huge positive impact in the lives of many due to the global disease of COVID-19."
Inclusive Education Managing Director, Steven Watt said alongside paper-based materials, radio and SMS, teachers will also have the opportunity to learn to use computers and mobile phones in new ways, creating digital audio, video, and educational content to support learning that children can do at home if they are not able to go to school due to COVID-19.
"We really believe in the role of teachers and we're excited to see what our focus on teacher capacity building combined with technologies we've adapted will do to deliver digital inclusion of children in Tonga."
Save the Children's Pacific Regional Director, Gerry Dyer said Save the Children is thrilled that we can offer help to strengthen kids' access to education in Tonga.
"Our teams across the world are committed to making sure this global pandemic does not stand between children and their right to education."
The program is funded by the Global Partnership for Education, the Tonga Accelerated Resilience Program (TARP) and supported through the technical expertise and technologies developed by Save the Children, and Australia's social enterprise, Inclusiv Education.
The TARP project will reach more than 2,000 Early Childhood and Inclusive Education students, and an additional 14,000 primary students if COVID-19 does come to Tonga and the use of home-learning materials are activated. It is envisioned that the materials and technologies that will be distributed throughout the program will be used in the event of a disaster.