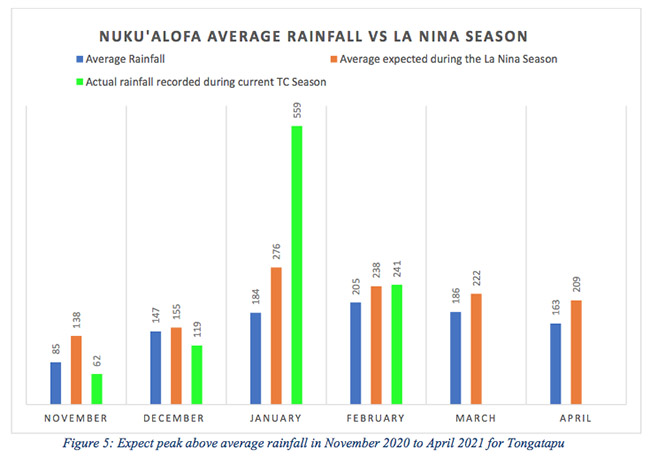 There is a 45% chance for at least one Tropical Cyclone to occur for the remainder Tonga's 2020/21 cyclone season, which ends on April 30, says Tonga Met in its updated outlook for the season.
If a cyclone affects Tonga during the remainder of the season between late March to mid-April there is a 25% chance of at least one will be severe, and most likely coming from the Fiji area.
The peak time for the occurrence of tropical cyclones in Tonga is from January to March, with most events occurring in February. 
Meanwhile, current sea surface temperatures patterns indicate that the 2020/21 Tropical Cyclone season is expected to be similar to 11 other seasons in the past (1970/71, 1974/75, 1988/89, 1995/96, 1999/2000, 2000/01, 2007/08, 2010/11, 2011/12, 2017/18).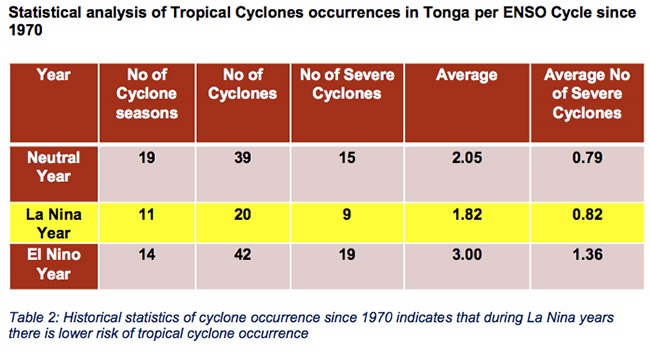 Exceptional Rainfall in December and January
The northern islands of Niuafo'ou and Niuatoputapu experienced heavy rainfall in December that exceeded the averages expected.
Then In January, heavy rainfall exceeded the averages expected for Tongatapu, Ha'apai and Vava'u. Nuku'alofa recorded 559mm of rainfall in January compared to the monthly average of 184mm.
However, Climate models are also indicating that near normal or below normal rainfall over majority of Tonga during for the remainder of this TC season.
"With current weakening conditions at La Niña and in the view of the rainfall outlook for Tonga, there is an increased risk of meteorological droughts in some islands of Tonga for the remainder of this season," Tonga Met said.
Recent TC 
Since the official start of this season on November 1, 2020 two cyclones occurred over our Southwest Pacific region, including Tonga. 
TC Zazu (category 1) and Severe TC Yasa (category 5). Both these systems occurred in Tonga's area of responsibility from December 13-20, 2020.
In addition, TC ZAZU mainly affected the land areas and waters of the Vava'u group of islands with damaging gale to destructive force winds with heavy precipitation and flash floods.
Severe TC Yasa, however, remained to the far western open waters of the Tongatapu and 'Eua but had impacts of damaging gale force winds on Tongatapu and 'Eua, with very rough to high seas accompanied by heavy damaging northwesterly swells. 
TC Ana (category 3), also affected Tonga from January 20 to February 2, 2021.
At the same time, a series of Tropical Depressions were also recorded during the last week of January to mid-February this year.