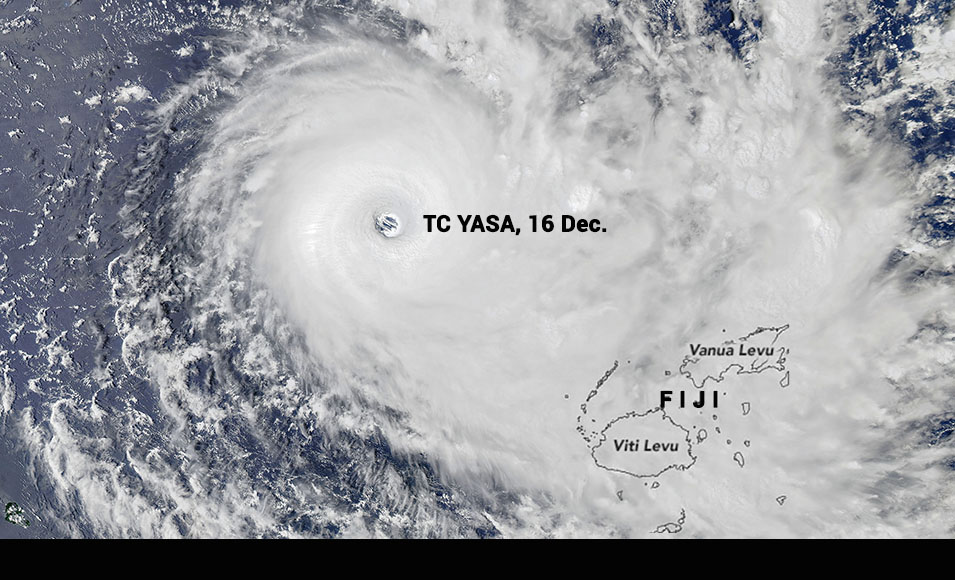 An extremely powerful Severe Tropical Cyclone, TC Yasa, is threatening Fiji today, where Prime Minister Frank Bainimarama warned people to prepare and evacuate low lying areas. Forecasters warned that wave heights around the eye of the storm could approach 14 meters (45 feet). Momentary gusts of up to 195 knots (390km/hr) are also forecast near the eye.
It is currently one of the most intense cyclones in terms of pressure (899 hPa) ever recorded in the South Pacific basin, as well as the strongest storm worldwide in 2020. Yasa is also the earliest Category 5 tropical cyclone on both the Australian scale (10-min mean) and Saffir-Simpson scale (1-min mean) in the basin since reliable records began.
TC Yasa is headed for a potentially devastating landfall in Fiji within the next 24 hours, NASA's website reported at 7:18 am this morning, December 17. "It threatens to cause damage on the scale of Tropical Cyclone Winston, which caused widespread destruction when it hit in 2016."
At midnight last night the Joint Typhoon Warning Center reported sustained winds of 140 knots (260 kilometers/160 miles per hour).
NASA's earth observatory captured a spectacular image of the eye of the storm, yesterday after it rapidly intensified into Category 5 - the fifth storm worldwide to reach that strength in 2020.
Tonga
A Tropical Cyclone Alert is now in force for Tonga.
Tonga's Tropical Cyclone Warning Centre at Fua'amotu was activated this morning at 9:00am. Forecast track maps show that Severe Tropical Cyclone Yasa is tracking toward Tongan waters tomorrow, Friday, and gales are expected for Saturday morning, December 19.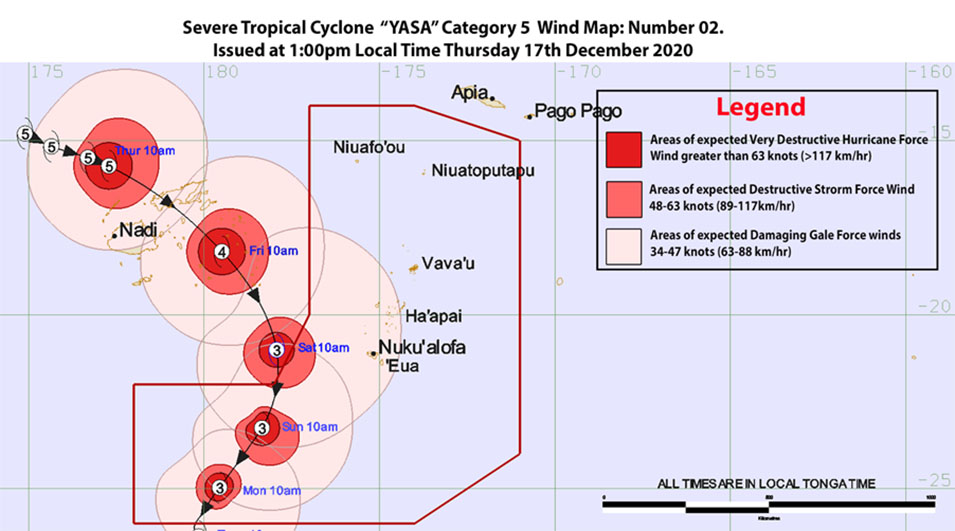 Image soure: Tonga Met.
Tonga Met advised at 1:00pm today that Severe Tropical Cyclone Yasa, Category 5 was located at about Latitude 20.2° South, Longitude 170.9° West or about 965KM West Northwest of Neiafu Vava'u, 975KM West Northwest of Pangai Ha'apai and Nuku'alofa, 1015KM Northwest of 'Eua at 12:00pm noon.
This system is moving Southeast at about 10 knots (20km/hr). The maximum winds near the center is about 135 knots (270km/hr) with momentary gusts of up to 195 knots (390km/hr). Associated cloudy conditions and periods of heavy rain will affect the Niuas today.
The weather forecast issued from Fua'amotu at 1:00pm:
FOR HA'APAI, TONGATAPU AND 'EUA:
East to Southeast winds 15-20knots (30-40km/hrs), rising up to 25-30 knots (50-60km/hrs). Becoming North to Northwest winds with momentary gusts up to 34-47 knots (68-94km/hrs) on Saturday morning.
Mostly cloudy with scattered showers this evening becoming overcast by tomorrow morning with periods of occasional rain, heavy at times. Moderate seas (up to 2 metres).
FOR VAVA'U:
East to Northeast winds 10-15 knots (20-30km/hrs). Becoming strong Northly winds by tomorrow afternoon. Mostly cloudy with occasional showers, heavy at times. Light to Moderate seas (up to 1.5 metres).
FOR THE NIUAS:
North to Northwest winds 15-20 knots (30-40 km/hrs) then rising up to 25 knots (50km/hrs) by tonight. Mostly cloudy and overcast with occasional rain, heavy at times with isolated thunderstorms. Moderate seas (up to 2.5 metres).
FOR TELE-KI-TONGA AND TELE-KI-TOKELAU COASTAL WATERS:
Southeast winds 15-20 knots (30-40km/hrs) then rising up to 25-30 knots (50-60km/hrs).
Rough seas (up to 3 metres).
LOW TIDE: 03:30PM
HIGH TIDE 09:40PM
The the mean sea level pressure recorded at Fua'amotu Airport at 01:00pm was 1007.6 millibars and the relative humidity was 75%.
Tonga Met will issue its next tropical cyclone advisory on Severe Tropical Cyclone Yasa for Tonga at about 07:00pm this evening.
The ANZ -Tonga Bank advised it will be temporarily closed tomorrow 18 December due to Cyclone Yasa.
--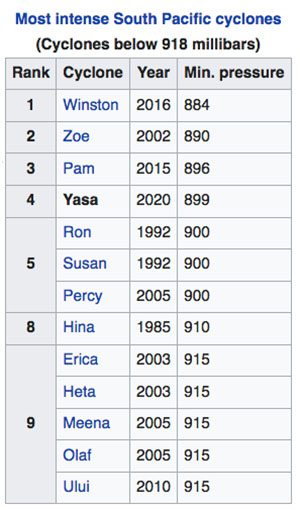 Image source: Wikipedia