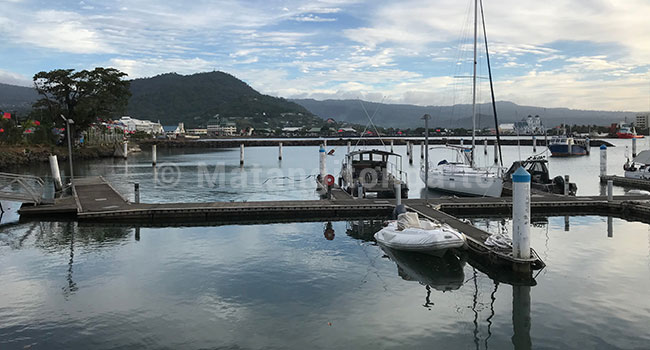 Seventeen people are now in managed quarantine in Samoa, after a CoViD-19 infected container ship passed through Apia on the weekend.
Media reports in Samoa said three out of 17 sailors on the ship tested positive to the virus when the ship arrived in American Samoa.
The crew were tested before they could disembark, or any cargo could be unloaded.
The container ship, Fesco Askold, has been approved to anchor outside the harbour for a minimum of seven days, while an assessment of the situation and a strategy is completed to off-load and pick up containers destined for the United States.
In Samoa, officials told local media none of the 17 crew members were tested in Apia because they had cleared national requirements for entry, and had tested negative for CoViD-19 at their previous port Tahiti. They had also cleared the on-board health check done by local officials.
Officials explained the five-person crew that went on-board the ship were in full personal protective equipment.
In additional reports, the Samoa government considered it a very low risk event and no further contact tracing was being done. None of the contacts with the 17 staff in quarantine have been isolated.
The containers were all disinfected.
Vanuatu records first CoViD-19 case
Meanwhile, Vanuatu is the latest Pacific Island country to record its first CoViD-19 case.
Vanuatu's Director of Public Health, Dr Len Tarivonda said the infected man had flown to Vanuatu from the United States via Sydney and Auckland.
The man, who was asymptomatic, and arrived in the country on 4 November, was confirmed with the coronavirus on Tuesday during routine fifth day testing. 
According to Health officials, the man was seated separately during the flights and physical distancing was carried out at all times, because he had been identified as travelling from a high-risk location.
Solomon Islands toughens CoViD-19 law
Solomon Islands citizens who lie on pre-departure forms about their exposure to the coronavirus will be prosecuted, confirmed Prime Minister Manasseh Sogavare.
This comes after CoViD-19 cases have increased in the country since the first coronavirus was first reported on 3 October. The latest CoViD-19 cases were from footballers who returned from Auckland, New Zealand on 25 October. 
SMB Online reported that the PM said "it is sad that most of the positive cases resulted from dishonesty by our own citizens. They lied in their pre-departure forms."
"My government will hold these people responsible for endangering our people and our country. The government is tightening up its pre-departure assessment form, making that anyone who lies on the form will be prosecuted after their release from quarantine station."
"Government has tried its best in good faith to bring our people back home but our very own people have not returned this good faith."
In addition, the PM was also disappointed to learn one of the footballers had refused to wear a mask on the plane.
Australia considers opening borders to Asia
Australia's Prime Minister, Scott Morrison, said on Tuesday that the country was considering opening its borders to several Asian countries, including Japan, South Korea, Singapore and Taiwan.
Australia already has a one-way travel bubble where visitors from New Zealand can enter Australia, but not the other way around.
"I think we proceed cautiously," the PM told reporters in Canberra.