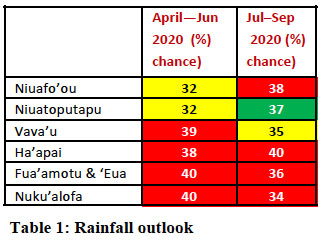 Dry weather has been forecast for most of Tonga from April to June, except for the Niuas where rainfall is expected to be average, according to Tonga Meteorological Service.
The dry weather looks to continue from July to September, with below average rainfall forecast for Tongatapu, 'Eua, Ha'apai and Niuafo'ou, and average to above average rainfall in Vava'u and Niuatoputapu (see table 1 above).
The wet season or cyclone season for Tonga will end this month.
Rainfall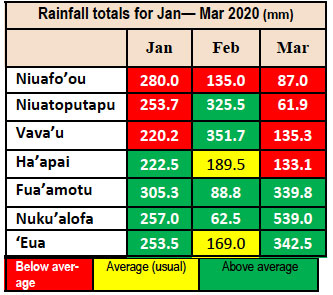 In March, above average rainfall was recorded in Tongatapu and 'Eua while the rest of Tonga received below average rainfall.
The highest rainfall in March was recorded in Nuku'alofa at 539mm, and the lowest was 61.9mm in Niutoputapu.
Meanwhile the mean temperature was 27.1oC for the month. The highest maximum temperature was 33.2oC on 22 March in Niuafo'ou and the lowest was 19.6oC on 27 March in Vava'u.
The El Nino-Southern Oscillation (ENSO) including the Southern Oscillation Index (SOI) both remain in the neutral phase.
While the majority of eight climate models surveyed indicates ENSO is likely to stay neutral up to mid-June to August, some models suggest a cooling phase development (La Nina) by late winter (June-August) or early spring (September-November) in 2020.
Tonga Met encourages people to be aware of the current climate and the possibility of likely dry conditions in the coming months and stay alert at all times to forecasts and warnings.
People can also seek advice from relevant authorities of sensitive sectors such as agriculture, water, health, and the National Emergency Management Office (NEMO) on best practices to save lives and property and minimize the effects of natural disasters.
Ocean Outlook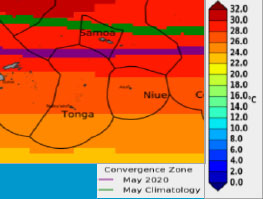 The sea surface temperature is forecast to be average to above average in April.
While the sea level is forecast to be around average across Tonga for the next three months.
The fisheries convergence zone (nutrient zone) is predicted just to the north of the Niuas in the next few months. This zone is the boundary between warm and cold ocean water and is rich in nutrients, attracting lots of fish.
The next extreme high tide will be on 8 May at a height of 1.84m, and the next extreme low tide will be a height of 0.24m on 9 May 2020.