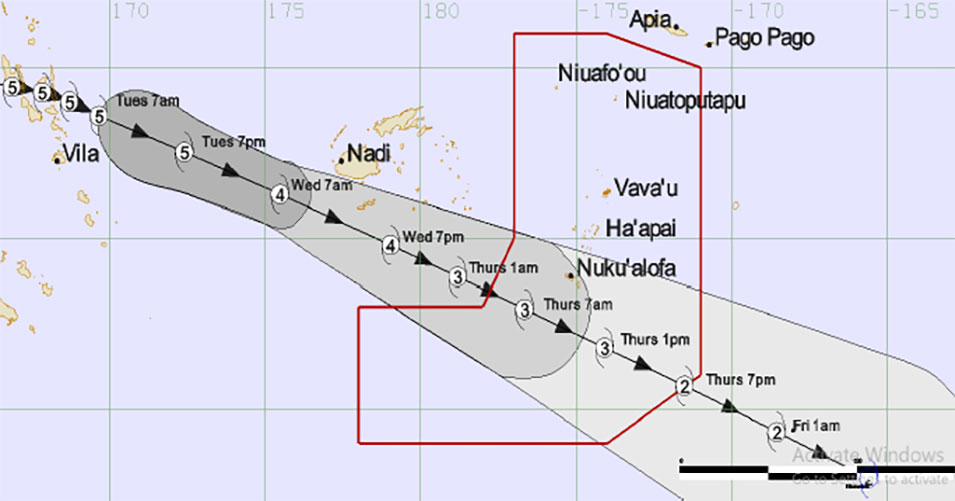 The Fua'amotu Tropical Cyclone Warning Centre was activated this morning as severe Tropical Cyclone Harold is expected to enter Tongan waters as a Category 3 storm by Thursday morning, April 9.
This is based on the latest forecast track. The Fua'amotu Tropical Cyclone Center was activated at 10:30am today until further notice.
'Ofa Fa'anunu, Director of Meteorology, said that at 7:00am today, severe Tropical Cyclone Harold (category 5) was located 845km West of Nadi (Fiji), or about 205km North East of Port Vila (Vanuatu),
It was located 1,685km West-Northwest of Nuku'alofa, 1,715km West Northwest of 'Ohonua, 'Eua.
The severe tropical cyclone is moving south at a speed of 09 knots (18km/hr) with maximum winds near the center about 120 knots (240 km/hr). 
On its current track, it is expected to lie at about 435km East of Port Vila, Vanuatu by 7:00pm this evening. 
Meanwhile, a trough of low pressure lies slow moving over Vava'u and the Niuas. Associated clouds, occasional rain and strong winds will affect the Tonga group today.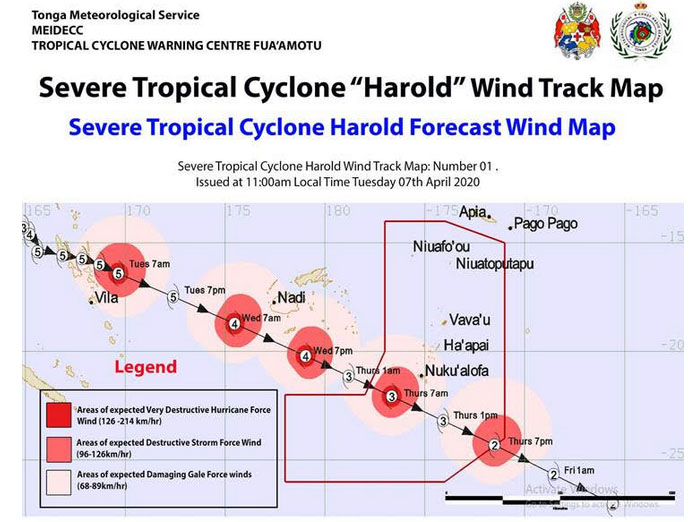 Vanuatu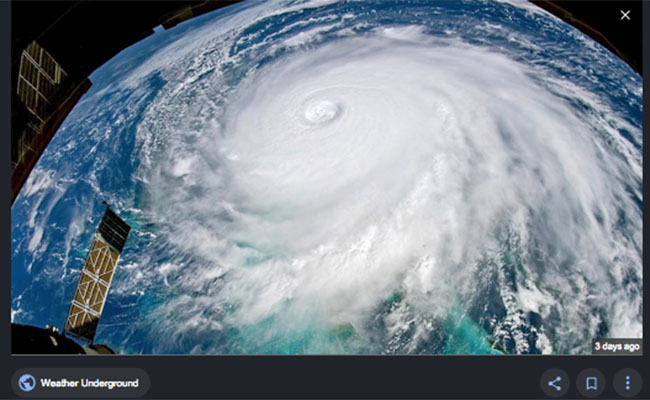 The Category 5 storm made landfall on the Vanuatu island of Santo yesterday with destructive winds as high as 235km/h, wrecking havoc according to early reports.
The cyclone passed directly over Santo where hundreds of people were sheltering in evacuation centres.
In Luganville, a town of 16,000 people, roofs have been blown off houses, trees snapped, and the council building has been destroyed.
One telecommunications provider, Vodafone, reported there was a general network outage in Banks, Santo, Malekula and Pentecost.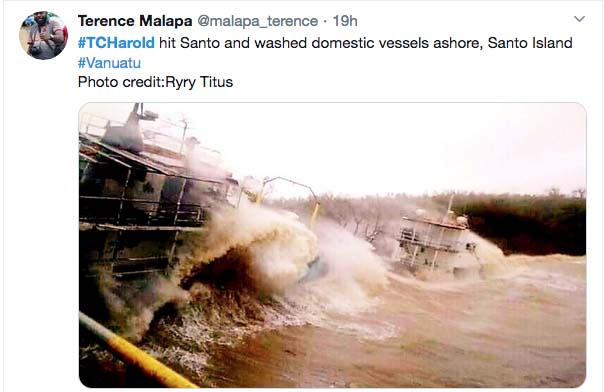 The full extent of the damage is not yet known.
Oxfam in Vanuatu's Country Director, Elizabeth Faerua, reported earlier that teams were on standby as the country braced for the impact of what is believed to be one of the worse storms since Tropical Cyclone Pam in 2015.
"There is reports of damaging gale-force winds, heavy rainfall and flooding in low-lying areas of Luganville Santo, and the power lines and communications lines in the north are currently down," Mrs Faerua stated.