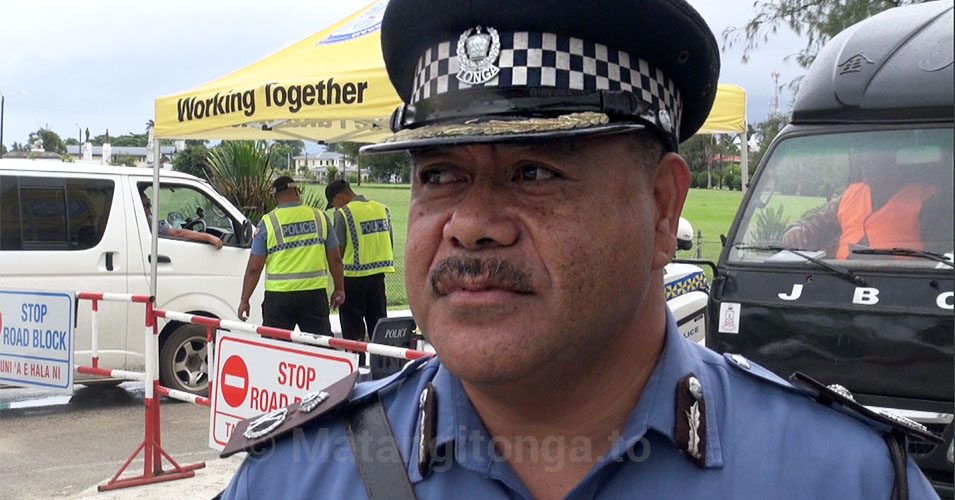 Tonga Police made 118 arrests, including 16 for illicit drugs, during the first week of the national lockdown, even though at times there had been vehicles queuing for a few kilometres at the main Tongatapu checkpoints.
Acting Deputy Police Commissioner 'Atunaisa Taumoepeau said on Friday that the offenders were few and most people were respecting the lockdown under the State of Emergency in support of the Ministry of Health CoViD-19 prevention.
"From the curfew, 8:00pm at night to 6:00am, we hardly see anyone out there," he said
A/Dep.Commissioner Taumoepeau, is responsible for the lockdown operation for Tonga Police, and said they are promoting the idea of "working together".
"This lockdown is to minimize the movement here in Tonga... keep the distance between everyone, keeping people to stay at home," he said.
"We planned this operation for past two weeks and police is the main leading agency and the main role of HMAF is to support this operation.
"The community policing are very supportive of us. We don't have much of a capability all around in Tonga but out in the village...they support the police ... if there is disregard of the law they report it to the police, and the police will be there and the army as well, even the fire service, and that makes our job easier," he said.
Arrests
"Since commencement of operations on Saturday last week we have arrested over 118, until this morning. Mainly, for obstruction of law enforcement officers, as well as failure to comply with the lawful directions, apart from that, there are still drunken people around. ... but these are very minimal and we thank everyone for supporting our operations and working together."
The roadblocks have made it easier for the Police drugs taskforce to apprehend known dealers who sell drugs from vehicles.
"I'm very happy about that, the combination of HMAF and the police, it makes us have lots of eyes everywhere."
He said the strategic roadblocks at Mata-ki-'Eua  on the main road from the eastern district, as well as Hofoa in the western district, was cutting the cross-island communications transport. "And you can see a long queue up to a mile or two or three, along that way, but police are still there to maintain it."
There have been around 16 arrests for drugs altogether, so far, with different kinds of amphetamine stimulants, and mainly cannabis, but no weapons.
At the moment he said essential services remained open, including retail shops, and some supermarkets.
"We closed the Market, but declared today that people can open private markets at the roadside," he said.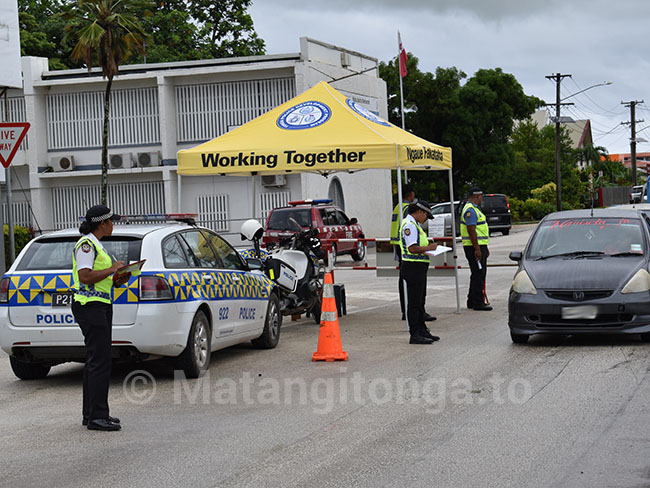 Serious
CoViD-19 has not been detected in Tonga, but the lockdown will become very strict if any case is suspected or identified.
However, he admitted there were "a whole list of things," including Personal Protective Equipment that the Police still needed, and they were working for.
"I think we have to share PPEs with the Ministry of Health, as well as the defence and fire service as well. We don't utilise much of those equipment right now, but once the situation will change, we will include all those equipment as well.
"But we need, yes certainly we don't have enough, actually, we don't have enough to respond to a full lockdown operation and take everything seriously," he said.
"While we treat this operation seriously, in some ways it's a preparedness exercise," he said. "But if by any chance CoVid-19 will sneak into the country it's going to be a totally different story for us."
But he urged the operation level of the CoVid-19 response to: "not be scared, not to panic, and I think that's a message to everyone here in Tonga, we need to work together and not panic at all.
"I think that if we don't have enough capability here in Tonga, then we have to work with what we have," he said.
- By Mary Lyn Fonua and Linny Folau.