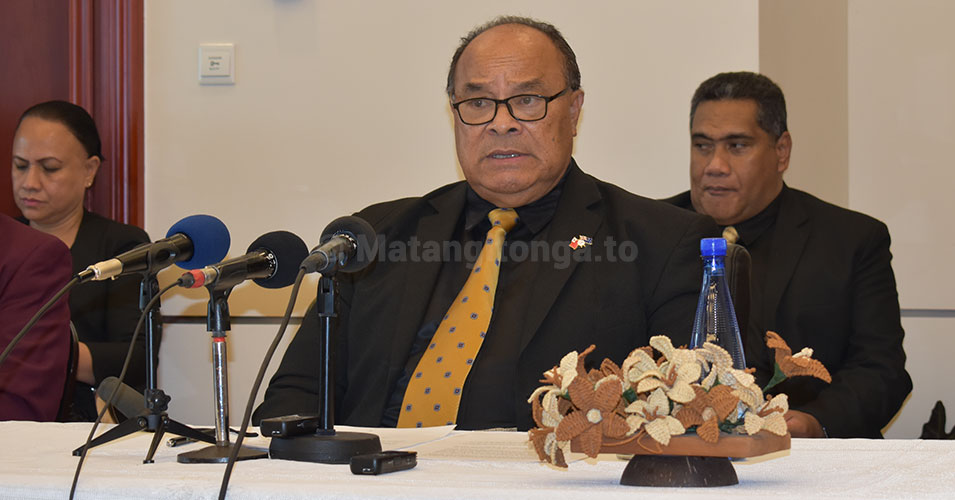 Two weeks without incoming commercial passenger flights to Tonga will give the government valuable time to set up essential measures, including equipment for testing in Tonga for CoViD-19 and protective clothing for health workers and to train more people for the response.
"Instead of sending it [samples] to New Zealand or Australia and having to wait for the results," the CEO of Health, Dr Siale 'Akau'ola told a press conference this afternoon.
The Prime Minister, Hon. Dr Pohiva Tu'i'onetoa announced there will be no commercial flights with passengers to Tonga from 23 March to 6 April, isolating Tonga from the world, which is threatened by the novel coronavirus pandemic. Tongans who are overseas will not be able to return during this time.
But the two weeks would enable Tonga to prepare to counter the CoViD-19. "There should be ample time for medical equipment and protective clothings for medical officers to be delivered to Tonga on a cargo aircraft, enabling us to be ready for when the virus arrives."
In addition to the training of civil servants, there is also a move by government to reactivate community Cluster Groups (formed during Cyclone Gita recovery) to get involved in the community effort to counter the Covid-19.
Tonga is one of the few Pacific Islands countries that has not been infiltrated by the corona virus.
Under recent quarantine measures imposed on arrivals, 113 Tongans were retained, with most in self-isolation for 14 days.
Four were retained at the military Talai Camp at Fua'amotu. Dr Siale 'Akau'ola said all had been cleared to go, except for one for being "indifferent".
Health staff who are facing this challenge are still recovering from their hard work to counter the measles outbreak in the region.
Port of Clearance
Tonga's efforts to counter the infiltration of CoViD-19 included the diversion of cruise ships, and yachts. However, according to the Hon. Dr Pohiva Tu'i'onetoa oil tankers and cargo ships can still come to Tonga, with Nuku'alofa as the only Port of Clearance.
The Minister of Finance, Hon. Tevita Lavemaau explained that there was financial assistance to Pacific Island countries, pledged by financial institutions, including a fund of $12 billion by the World Bank to help regional governments and the Private Sectors, and there is also a $6.5 million fund made available by the Asian Development Bank.
He said that the Governor of  the Reserve Banki had talked to Commercial Banks to defer the repayment of loans.
Police Commissioner Stephen Caldwell stressed "under these circumstance we should act as a family, we should look after each other, respect the spirit of the law.
"This is an emergency, we are working with the Ministhy of Health and we have to respond, for any one person can spread this disease. We are supporting the Minister of Health,"
The Attorney General said that under the Health Act disobeying the law of places where they should go or not go, for a guilty first offender the penalty is $50,000 or five years in jail.
A ban has been imposed  on public gatherings (no more than 20 inside and 40 outside).
Prosecutions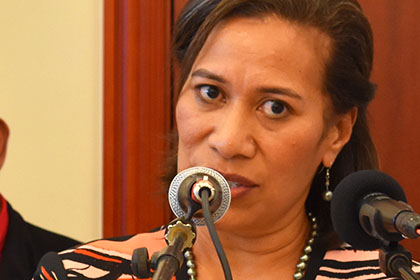 Tonga's Minister of Health today also warned that criminal prosecutions will follow failures to comply with strict Emergency orders to prevent CoViD-19 entering Tonga, where the country alert level remains very high.
Hon. Dr 'Amelia Tu'ipulotu reaffirmed measures that have come into force in Tonga over recent weeks under a Declaration of an Emergency Notificable Condition (13 March) and other powers under the Health Act.
"To date, 29 confirmed cases have been reported in the Pacific Island Countries and Territories. The Ministry of Health is seriously concerned about the high risk of importation of CoViD-19 into Tonga due to the significant health impacts it will have. There is a very high risk of an outbreak which has the potential to cause huge economic loss to the country," she stated.
The Ministry of Health issued a travel advisory no. 6 today, for travellers, stating it was raising the country alert level from "high" to "very high."
The alert level was previously raised to "very high" in their fourth travel advisory issued on March 3.
The Prime Minister said that HM Queen Nanasipau'u was currently in New Zealand.