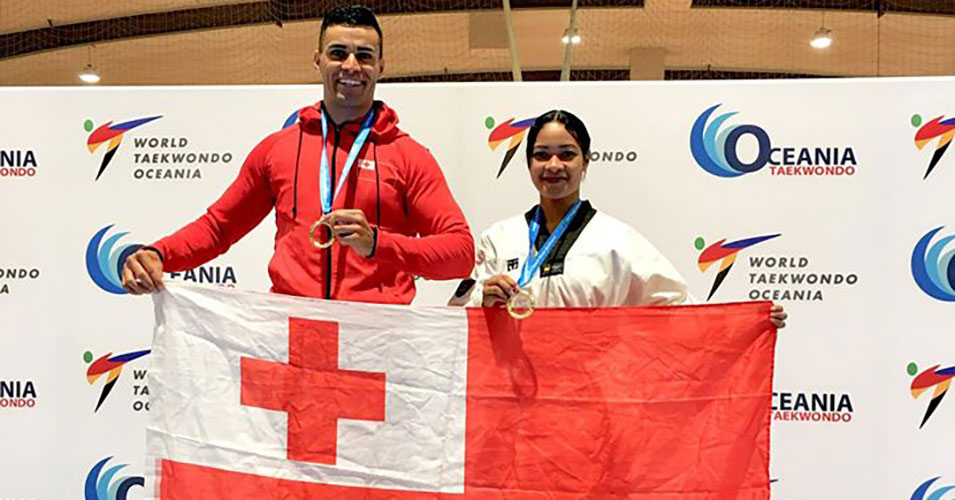 Tonga's famous Olympic flag bearer, Pita Taufatofua, has made history again for the Kingdom, after qualifying in Taekwondo for his third Olympics in a row on 29 February, on the Gold Coast, Australia.
Malia Paseka also secured an Olympic spot in Taekwondo at the World Taekwondo Oceania 2020 Olympic Qualifications tournament.
Pita won gold in the M+80kg Taekwondo at the tournament to secure Tonga's first qualification spot while Malia also won gold in the W-67kg securing the second qualification spot for the Tokyo 2020 Olympics.
It is Malia's first time to qualify for the Olympics, however she has represented Tonga in Taekwondo in the past, most notably at the Pacific Games in Apia, Samoa last year, where she won gold and bronze.
Pita is also aiming to qualify in sprint kayaking for the same Olympics, but had suffered an injury in early February before a kayak qualification race which he managed to complete.
In a social media post celebrating his win on the weekend, he said he was still experiencing some discomfort.
"I'm in a whole lot of pain after yesterday and will have a day off for all the swelling to come down before jumping straight back into my kayak to work towards Kayak qualification for Tonga.
"We did it team!"
Australia and New Zealand taekwondo also secured places at the Tokyo 2020 Olympics.