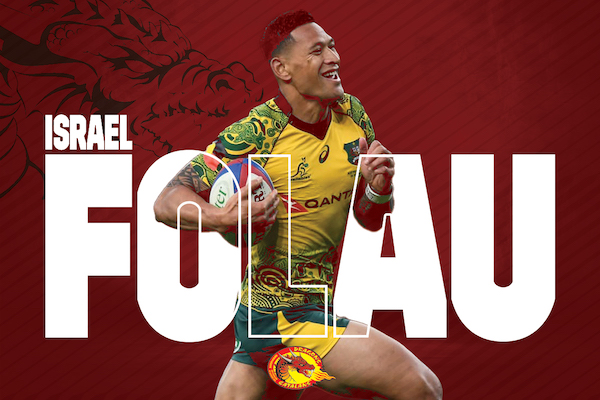 Former Wallaby Israel Folau is set to make a dramatic return to rugby league after signing a 1-year contract with French Super League club, the Catalan Dragons, on Tuesday 28 January. The Catalan Dragons roster includes Tongan players Sam Moa and  Samisoni Langi.
"We want to give Israel a new opportunity to shine on the pitch", said Catalans Dragons Chairman Bernard Guasch.
The signing, however, is already drawing criticism in relation to Folau's fallout with Australian Rugby last year regarding an allegedly homophobic post he shared on social media. Both the Super League and England's Rugby Football League (RFL) released a joint statement disapproving the French club's decision to hire Folau.
Super League Executive Chairman Robert Elstone stated "I have sought the opinion of informed voices connected to our game, and the majority share my disappointment that one of our clubs has chosen to sign him."
Catalans Dragons Chairman Bernard Guasch said that his club did not support Folau's religious opinions and that they had signed an agreement with the RFL requiring an immediate sacking of Folau if "any transgression" took place.
"We have a signed agreement with the RFL. Any transgression will trigger an immediate termination of Israel's contract and a substantial fine for the club."
"We do not support or agree with Israel's previously expressed and controversial views which are based upon his sincerely held religious belief. We do not share or condone those views and we are totally committed to our club and our sport being open and welcoming to everyone. We do not believe that those views should be publicly expressed, especially by a high-profile sports person."