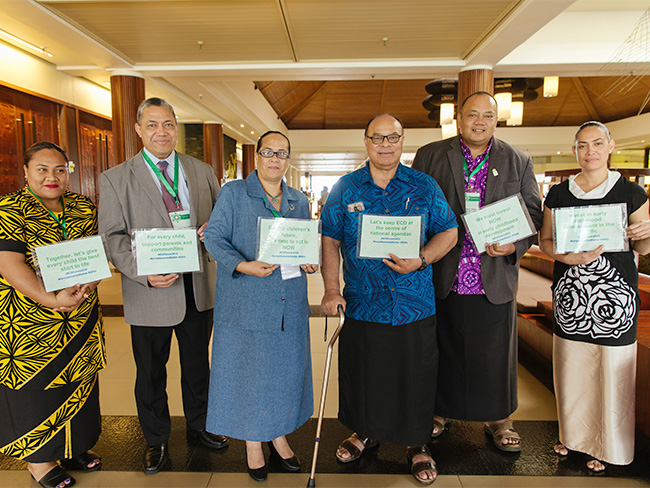 A Pacific Regional Council for Early Childhood Development was formally established during a 23-25 October Forum meeting in Nadi, Fiji.
The Council with a 10-year working plan will be responsible for the providing advice on strategic direction, guidance and policy support on Early Childhood Development for all the 15 Pacific Island Forum countries.
Preparation for learning, resilience, health and productivity begin even before children start school.
The Prime Minister, Hon. Pohiva Tu'i'onetoa led the Tongan delegation to the meeting.
He was accompanied by the Minister for Education and Training, Hon. Siaosi Sovaleni; Dr Siale 'Akau'ola, the CEO for the Ministry of Health; Mrs Balwyn Fa'otusia, CEO for the Ministry of Finance and National Planning, Dr Kiliaitina Puleiku, Ministry of /Finance and National Planning, and Ms Soana Kaitapu, the head of the Early Childhood Education Unit, Ministry of Education and Training.
According to Soana, Early Childhood Education was introduced to Tonga in 1974.
However, there are only 77 pre-schools in Tonga, with 2,200 students, which is only 30% of the total figure eligible for pre-school aged between 3-5 years.
Under Tonga's Education Act 2013 the Ministry of Education is responsible to improve quality of universal basic education for all children in Tonga from age 4 to age 18.
The Tonga government established its very first pre-school - the Kolonga Government Pre-school in March 2019.
Soana said that the Ministry had also introduced a Tonga pre-school curriculum, Lalanga Mo'ui.
There are plans for pre-schools in the Eastern District, and the rest of Tongatapu.
Churches and non government organisations have also established kindergartens in Tongatapu and other island groups, over the years.