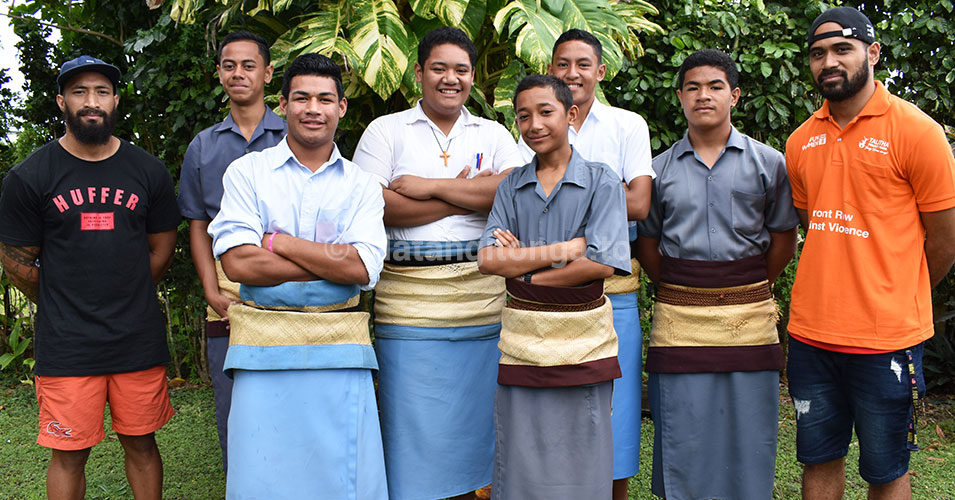 By Eleanor Gee
A group of teenagers aim to influence Tongans to say No to violence, especially violence against women and girls, after attending a 'Front Row Against Violence' boys weekend camp recently run by the Talitha Project.
Twenty-seven teenagers from various high schools attended the camp, a pilot project, under the theme 'Growing Healthy, Respectful Young Men' where they learned about respect, self-development, leadership, empowerment, domestic violence, drugs, safe sex, and human rights.
Out of the 27 that attended, 10 were selected to be part of the Talitha Project's first young male mentors.
Tonga High School student, Andrew Moala (13), was one of the mentors who spoke to Matangi Tonga about some of the issues they discussed at camp that need to be addressed, such as gender equality and violence against women and girls. 
"We see the youth not treating the women equally, like harassment and also see them abusing them," said Andrew. "But us men, we shouldn't treat women badly, we should really care about gender equality, that all men and women are equal."
He said one of the ways to address the issue was learning about self-control and how important it is for men to control themselves in order to stop acting out in a violent manner. Attending workshops or camps like the ones organised by Talitha Project would help raise awareness of the issue.
"Not only should youth and teenagers attend these activities, but we think older people should attend these workshops as they are the ones who start and create domestic violence and abuse," said Andrew.
He added that young people who grow up in an abusive or violent environment act out what they perceive is normal and it ends up being a cycle where each generation learns from the previous one.
Drugs
Another issue students discussed was drugs being a problem for people their age. 
"There are a lot of drugs they use such as weed or marijuana, crystal maze, crystal meth, including pest control, and mortein," said Andrew. "They also use something they call fina, and they inhale it. They think it makes them strong. They even think it is useful for study and stay awake for three or four days but it only harms you."
"Not only does it harm their body, it harms their value but it also harms others."
Stress was highlighted as a major cause of drug use among students and is often triggered by family, community or school problems.
The students spoke about ways to stop drugs use, and imports, which included making use of advanced technology at airports and ports to stop drugs entering the country. They said in school they could also influence students to stop using drugs.
Toxic masculinity
The camp was run by Talitha Project male advocates, 'Aloko'ulu 'Ulukivaiola and Richard Talia'uli to address toxic masculinity.
'Aloko'ulu said discussions at camp were held around "becoming a good man, not masculinity or anything but as a normal person and being respectful in life with everyone".
According to Wikipedia, in psychology, toxic masculinity refers to traditional cultural masculine norms that can be harmful to men, women, and society overall, such as violence.
Richard said in the Tongan culture, men are expected to be very respectful towards women in their families like their mums, sisters, and aunties.
"I just find it quite strange that they are respectful to them but then...it changes. Why are we acting differently towards our family and differently to other families?"
He said women outside the family were seen by men as more like objects, in particular sexual objects. 
The pilot project was a way to educate young men about addressing the issue, he said.
"We'll have a couple more camps with the core group that we've selected. We'll be working with them every week about the issues and how we can improve."
The teens visited Matangi Tonga office as part of their training in media engagement and networking.