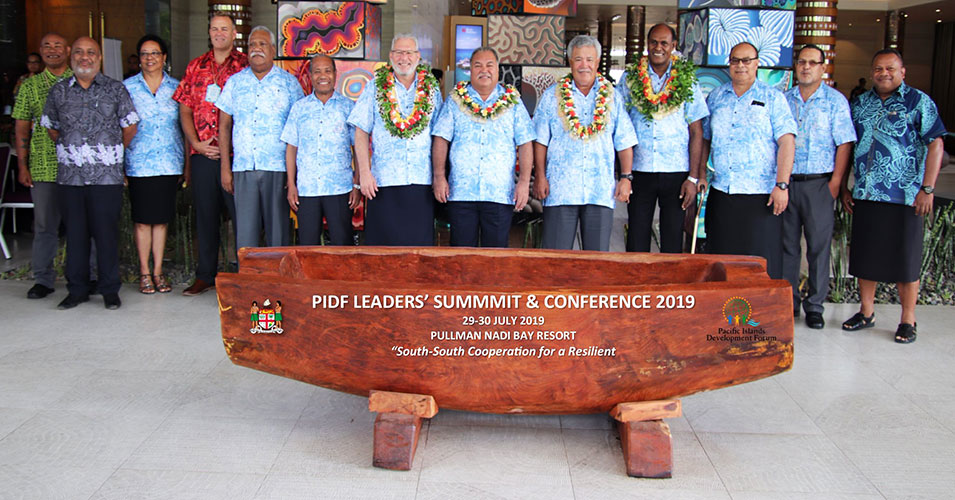 A 'climate crisis' has been declared by Pacific Island States, including Tonga, after signing the Nadi Bay Declaration earlier this week, calling on developed countries to urgently address climate change including phasing out coal mining and fossil fuel use and production.
The declaration was signed at the Pacific Islands Development Forum (PIDF) Leaders' Summit and first Conference held in Nadi, Fiji, 29-30 July.
It stated the Pacific's deep concern for the "lack of comprehension, ambition, or commitment shown by developed nations" towards the consequences of the climate crisis on vulnerable Pacific nations.
The declaration affirms that climate change poses the single greatest threat to the human rights and security of present and future generations of Pacific Island peoples. Some coral atoll nations could become uninhabitable as early as 2030, with the possibility of the Marshall Islands, Tuvalu, Kiribati, Tokelau, and the Maldives submerged by 2100.
The declaration listed a number of requests including the global community to urgently address the warnings of the Intergovernmental Panel on Climate Change IPCC) Special Report on the dire ramifications of the lack of urgent actions to address climate change and sea-level rise.
It also calls for an end to any new coal mining and a phase out and the closure of all existing coal production over the next decade; as well as to relinquish subsidies to fossil fuel use and production and transition to affordable technologies.
It requested that relevant parties cease from using 'carryover credits' as abatement for the additional Paris Agreement emissions reduction targets, and for developed countries to support climate finance, as well as capacity development and the transition to renewable energy.
Fenton Lutunatabua, Regional Managing Director of 350.org in the Pacific said this visionary declaration is a testament to the will of the Pacific people who have moved their politicians to show committed actions in confronting the climate crisis.
"The collective futures of Pacific peoples depends on us being able to pushback against the fossil fuel industry fuelling this climate crisis, and towards equitable and just solutions centered on people - this is what is at the heart of this important international statement."
The ABC reports the declaration was signed by Fiji, Kiribati, Nauru, Micronesia, the Marshall Islands, the Solomon Islands, Vanuatu, Timor Leste and Tonga, as well as non-government organisations and private sector representatives.
The Minister for Finance, Hon Pohiva Tui'onetoa led Tonga's delegation to the PIDF.