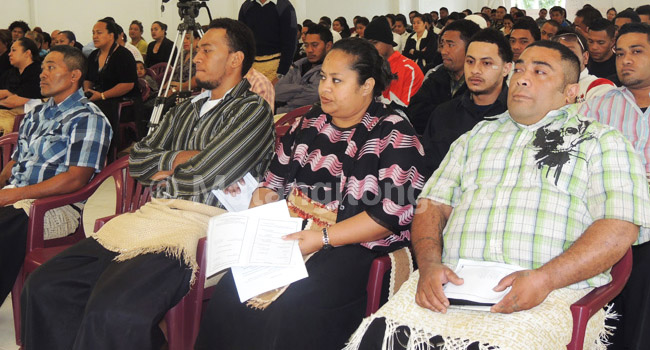 By Pesi Fonua
The opportunities for Tongans to get a better paid job in New Zealand and Australia under New Zealand's Recognised Seasonal Employer Scheme (RSE) and Australia's Seasonal Workers' Program (SWP) has been hailed as a blessing by family members and the government, but at the same time it is regarded as a stumbling block to local Private Sector  growth. Local Tongan businesses that can't compete with the overseas pay rates are experiencing shortages of semi skilled and skilled labour.
While Tonga is anticipating ratifying the PACERPlus free trade agreement between Australia, New Zealand and seven Pacific Island countries, it's clear that currently Tonga has little to trade with, and a growing skilled labour shortage has now become an obstacle to Private Sector growth in Tonga.
Since the seasonal workers program was launched by New Zealand with its RSE in April 2007, and Australia with its SWP in 2008, they have recruited thousands of seasonal workers from the Pacific Islands to work in their horticulture and viticulture industries.
With so many skilled workers leaving the islands there is a growing concern over how Tonga and other Pacific Islands countries can boost their exports to take advantage of the PACERPlus Trade Agreement that was signed by seven Pacific Island countries, and Australia and New Zealand in Nuku'alofa on 14 June 2017. The agreement has yet to be ratified before it can come into force.
Growth of seasonal labour
Holly Lawton a Pacific labour researcher with the Development Policy Centre at ANU, Canberra, in a new report this week said that Australia's SWP programme grew by 44% in 2018-19, or by some 3,000 workers after a cap on workers numbers was removed. "One prediction is for SWP demand in Australia to reach 37,500 seasonal work opportunities by 2030," she stated.
New Zealand has increased its cap on RSE numbers to 12,850 workers in November 2018, a 16% increase on the previous year.
Tonga is one of the big three providers of labour.
Holly said that significant job shortages across the Pacific means there's a large, willing seasonal labour supply with competition for places. In 2018-19 Tonga supplied about 30% of the Pacific workers for SWP and RSE, second only to Vanuatu who supplied over 40% of the Pacific's share.
Seasonal labour is traditionally biased toward men, however in 2018-19 Tonga's female participation increased to 17% of its workers.
The New Zealand RSE Scheme recruited workers from Fiji, Kiribati, Nauru, Papua New Guinea, Samoa, Tonga, Tuvalu and Vanuatu.  The Australian SWP recruited workers from the Pacific Islands and also from Indonesia Malaysia and Thailand.
However, business owners in Tonga point out that in fact they are experiencing a shortage of skilled and semi-skilled labour and with the best workers picked for the SWP RSE schemes and attracted by the  higher pay. Local businesses are finding it difficult find people who want to work in the local economy for local wages.
Right across the spectrum of Tonga's Private Sector there is growing concern over the increasing numbers of their experienced workers who have left to participate in the SWAP and RSE seasonal workers schemes.
Some workers return and others pursue other employment opportunities.
The numbers have grown since 2015 when the Minister of Internal Affairs Dr Saia Piukala said more than 3,500 Tongans were deployed annually on the worker schemes.
Tonga
Alfred Cowley, who operates the biggest bakery in Tonga, expressed his frustration over the impact of the labour mobility scheme on his business. He said that he has to bring in workers from overseas, from Asia and from other Pacific Islands.
He said that right now he has employment opportunities for 30 workers, "if they are willing to work. Unfortunately, some of them just want to sit around doing nothing."
But there's not much enthusiasm for local unemployed to take up the jobs for local pay rates. Going overseas appears to be the main attraction.
A spokesperson from the Ministry of Internal Affairs said the hourly rate for a labourer in New Zealand is NZD$17.50 an hour, whereas in Tonga, the daily rate is $20.97 pa'anga a day.
The RSE Scheme and SWP were considered as a blessing, providing employment and a source of income for many Tongan families, and also boosting Tonga's foreign currency earnings.
Tonga received $27.3 million pa'anga in remittances from overseas Tongans during March 2019. Of this, $8.1 million came from NZ RSE workers and $3 million from Australian SWP workers.
The Tonga Chamber of Commerce President, Paula Taumoepeau, expressed his concern that there is a growing shortage of skilled labourers in Tonga.
While Paula appreciated the opportunities for Tongans to find employment overseas, he was also conscious of the fact that Tonga has not ratified the PACERPlus Trade Agreement between Australia and New Zealand and eight Pacific Island countries.