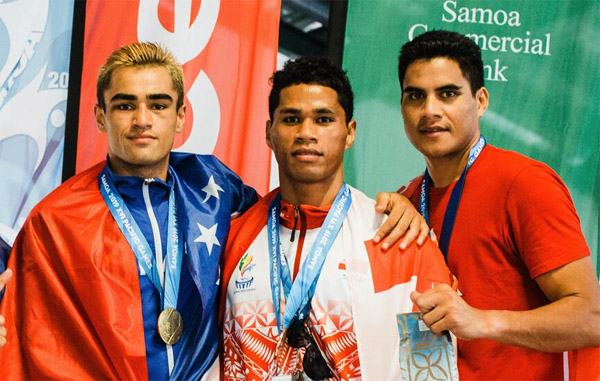 Tonga's 2019 Pacific Games team returns from Samoa with 9 Gold, 5 Silver and 15 Bronze medals. The medal tally is Tonga's highest ever at the Pacific Games and a significant improvement from the 2015 Pacific Games where team Tonga returned with 17 medals (7 Gold).
Overall, Tonga was ranked 7th on the official Pacific Games medal tally. New Caledonia dominated the tournament with 182 medals (76 Gold). Papua New Guinea was second with 130 medals (38 Gold) followed closely by hosts Samoa (125 medals including 38 Gold).
Weightlifter
The biggest upset of the games may have been produced by Tongan weightlifter 'Aisake Tu'itupou who won Gold in the +109kg overall weightlifting category, beating two Commonwealth Games medallists David Liti (New Zealand) and Lauititi Lui (Samoa).
Teenage track athlete Mosese Foliaki (19) won two Gold medals in the Men's High Jump and the 110 metre hurdles. The 110 metre hurdles Silver medal went to fellow track runner Talatala Po'oi.
The Prime Minister's Office congratulated Team Tonga for their efforts. Hon. 'Akilisi Pohiva stated "I am very proud of all of the members of Team Tonga for having won the highest number of Gold medals as well as the highest number of overall medals in the Apia Games, in comparison to previous Pacific Games in which Tonga has participated. This is a major achievement for Tonga and full credit must go to the individual members of Team Tonga as well as the managers, moaches and support staff."
Tonga's Gold Medalists
1. Men's Taekwondo team: Moala Takelo, Sione Tauatuna, Viliami Moala and Vi Pouvalu Vaiangina.
2. Women's Taekwondo team: Lile Loumoli and Malia Paseka.
3. & 4. Aisake Tu'itupou (Mens Over 109 kg Clean and Jerk, Mens Over 109 kg Overall)
5. & 6. Mosese Foliaki (110m hurdles, Mens High Jump)
7. Ata Tu'utafaiva (Shot Put)
8. Moala Takelo (Taekwondo Middle 80-87 kg)
9. Semisi and Matavano Fanguna (Mens Doubles Tennis)
Silver Medalists
1. Tonga Netball Team: Luana 'Aukafolau Marie Hansen Michelle Katoa Seni Lafo'ou Lavinia Lavea Loumaile Manumu'a Lesieli Moala Uneeq Palavi Amenda Payne Mena Sinisa 'Anipa Sisi Peti Talanoa.
2. Finetu'ui Moala (Judo Mens Heavy-Weight Open)
3. Sebastion Lavemai (Boxing +91kg)
4. Talatala Po'oi (110 hurdles)
5. Archery Mixed Team: Arnie Jensen and Mele Tu'uakitau.
Bronze Medalists
1. Tonga Rugby 7s Team: Sione Tupou, Wesley Fotofili, Latuselu Vailea, Katilimoni Tuipulotu, Onelani Pongi, Louis Ova, Edward Sunia, Aisea Halo, Tanekinanga Iloa, Viliami Fotofili, Samisoni Asi, Niukula Osika.
2. Mens Beach Volleyball: Ti'o Fonohema and Semisi Funaki.<
3, Ken Hurrell (Mens Light Heavyweight Boxing)
4. Feofaaki Epenisa (Womens Middle 69-75kg Boxing)
5. Viliami Moala (Mens Welter 74-80kg)
6. Tekiteki Ngahe (Taekwondo Mens 87+)
7. Malia Paseka (Womens U 62kg)
8. Sio Talakai Pomelile (Mens Up to 109 kg Snatch Weightlifting)
9. Aisake Tu'itupou (Mens Over 109 kg Snatch)
10. Sailosi Ealelei ( Judo Senior Mens U 100kg)
11. Finetu'ui Moala (Judo Senior Men +100kg)
12., Sione Tufi (Taekwondo mens 58 – 63kg)
13. Paris Baker (Lawn Bowls)
14. Kaisa Pakileata (Mens Pole Vault)
15. Ata Tuutafaiva (Discus)