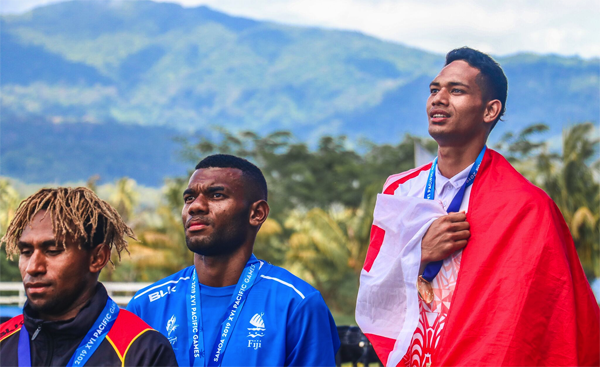 Tonga's High Jump athlete Mosese Foliaki was a class ahead of his competition on day eight of the Pacific Games July 16, clearing a jump of 2.06 metres compared to the 1.99 metres jumps cleared by second placed Malakai Kaiwalu (Fiji) and Peniel Richard (PNG). 
In addition to winning a Gold medal, the 19-year-old Olympic prospect achieved his personal best and set a new Tongan high jump record.
"I came into the field this morning very confident, believing in God and the preparation I'd done for myself", he told the Pacific Games News Service.
"It means a lot to me to have the Gold. I was targeting a new personal best, my old one was 2.05m, and today I got 2.06m"
Fourteen competitors from nine Pacific nations competed in the men's high jump: Tuvalu, Tahiti, Samoa, Wallis and Futuna, Vanuatu, Kiribati, Fiji, Papua New Guinea, and Tonga.