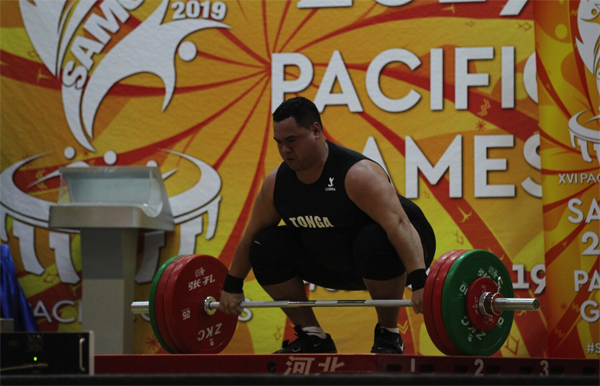 Tonga's champion weightlifter 'Aisake Tu'itupou caused a big upset at the 2019 Pacific Games after he beat 2018 Commonwealth Games gold medalist David Liti (New Zealand) and silver medalist Lauititi Lui (Samoa) to win two golds for Tonga in the highest division (Over 109kg) of the weightlifting competition at the Pacific Games in Samoa on Saturday 13 July.
The 25-year-old won Gold in the Clean and Jerk category and the Overall category, and a Bronze medal in the Snatch category. Tu'itupou and fellow underdog Malachi Fa'amausilifala (Samoa) took full advantage of failed lift attempts by the favourites David Liti and Lauititi Lui. Tu'itupou gathered a total lift of 330kg to win the Overall category, 49kgs ahead of Malachi Fa'amausilifala.
Tu'itupou's two Gold medals remain the only golds won by Tonga so far in Pacific Games.
Day 7 of the Pacific Games begins today 15 July with the commencement of competitions in Athletics, Judo, Boxing, Netball and Volleyball.
Tonga's medal tally is currently in the mid-range of the tally, having won eight medals (2 Gold, 1 Silver, 5 Bronze). New Caledonia leads the medal table with 93 medals followed by Samoa with 68 medals.