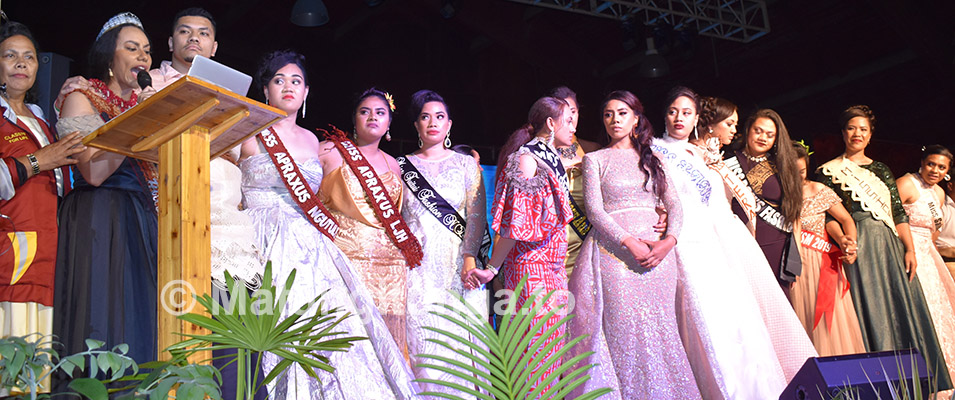 Attempts were made to silence outgoing Miss Heilala, Kalo Funganitao after Miss Heilala organisers unplugged her microphone during her final speech when she started to voice her struggles in the past year, including criticizing them for their lack of support at the Miss Pacific Islands beauty pageant held in Nuku'alofa last year.
Making her final address as Miss Heilala before the crowning of the new Miss Heilala in the early hours of this morning, Kalo described her experience at the Miss Pacific Islands pageant, as "tormenting".
"My mother and I were cheated, lied to, backstabbed and generally messed around. Instead of focusing my efforts on the pageant I was trying to find answers as to what was going on. I had never felt just a lack of support from people who were supposedly put into roles to help me."
"Up until today I have experienced just how hard it can be to be a young Tongan woman. I have dealt with people in official roles and in other places, in the work force that have been unprofessional and rude and just straight out mind-boggling," the law student said.
"There needs to be an upheaval of the restricting current framework because it is not working. There seems to be committee members talking about others and taking photos of their outfits instead for looking out for the contestants especially if have been sitting in an ambulance for two hours!"
Kalo's critical speech, which she read from her laptop on the podium, followed her long vote of thanks to all the people who had helped her.
Drown her out
In a second attempt to silence her, Tonga's Deputy Prime Minister Hon. Semisi Sika, who is also Minister for Tourism, walked over to technical staff and told them to play loud music to drown out her speech, as heard by Matangi Tonga who sat close to them.
"Ta e fasi. Ta e fasi ke le'o lahi," [Play the music. Play the music loud]," he said. 
The technical staff did as they were told, but Kalo raised her voice and shouted to be heard as she continued to voice her opinions, while her mother, brother, and Miss Heilala contestants rallied beside her.
Kalo thanked those who supported her during her reign including her family and friends.
"The love and support of strangers has far outweighed whatever contrasting opinions there have been. I thank those taking time for sending words love and support....Thank you to those working within the Ministry of Tourism who have always helped even if it was a job for someone else to do, those of tried to find answers for me, drivers and others," she said.
All of a sudden, the music was switched off allowing her to finish her speech without a working microphone, while her supporters in the audience called out to keep going, while others were rowdy and rude.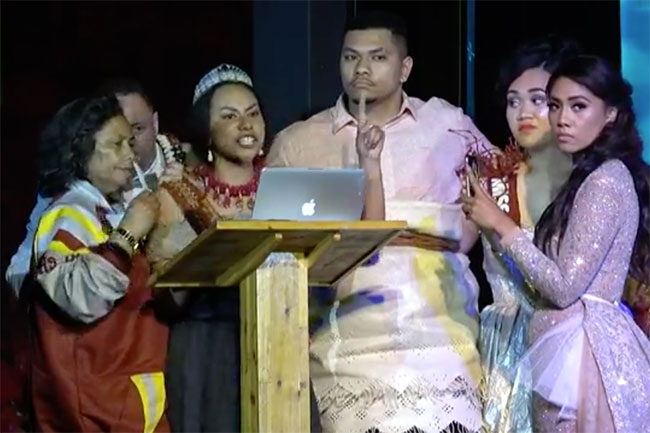 Suppport and encourage women
At the end of her speech, Kalo and the contestants made their way backstage leaving the MC for the evening, Sulieni Layt, to handle the situation.
He appreciated the support of the families of the contestants.
"The goal of the Miss Heilala contest is to empower women, to support women and to encourage women to be confident, to show their outer beauty and their inner beauty that lies within," he said.
The contestants returned to the stage five minutes later to finish the Miss Heilala event and as they stood there waiting for the winners to be announced, Kalo made her final walk on the side of the stage with her crown and sash, laid them on the podium, and left the venue.
She did not stay to place the crown on the new Miss Heilala's head.
Cyber bullying
During her speech Kalo mentioned her Facebook page.
In a post made recently she talks about the impact of cyber bullying on her.
She said one of the first statements that she made when crowned last year was that she would not tolerate bullying.
"That has not changed, but it seems that my sentiments need to be enforced publicly - again. I am disgusted by the capacity people have for evil, but frankly if you feel empowered by ganging up to bully someone - then you must deal with the repercussions," she stated on Facebook.
"I may only be a law student now, but I certainly know enough to tell you that such acts of cyber bullying is a crime. You should have just continued about your own business, building a bright future for yourselves and your families. That is what I had wished for you, now I just hope that you never treat another human being this way!" she stated.