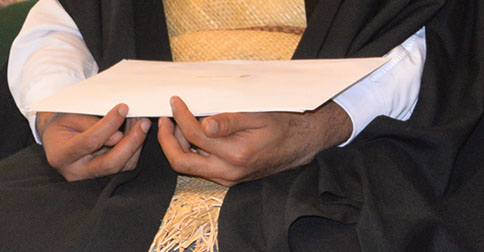 'Atenisi Institute was unsuccessful in its application to the Nuku'alofa Supreme Court for an interim injunction to restrain the Tonga National Qualifications and Accreditation Board from imposing certain conditions on the independent education provider.
On Friday 8 February Lord Chief Justice O. G. Paulsen ruled that the application by 'Atenisi Institute Inc. for an injunction was declined. However, he allocated an early hearing date for the trial of an action that 'Atenisi is bringing against the TNQAB.
The plaintiff, 'Atenisi, has for some years operated as an educational provider known as the University at 'Atenisi Institute.
The defendant, TNQAB, is a statutory body established under section 3 of the Tonga National Qualifications and Accreditation Board Act concerned with the registration of providers of post compulsory education and the accreditation of their courses of study.
The February 8 ruling concerned an application by 'Atenisi for an interim injunction restraining TNQAB from:
Imposing a condition that 'Atenisi ceases recruitment of new students in 2019;
Imposing new or amended, or the revocation of, conditions on the registration of 'Atenisi's qualifications; and
Publishing in Tonga or elsewhere through any medium of communication, any information about 'Atenisi in respect of 'Atenisi's compliance or otherwise with the Act.
Affidavits were made by the Dean of Faculty of 'Atenisi, Dr Lorenz Gonshor, and a member of 'Atenisi's Board, Mrs Lose Jenner-­Helu.
Mr Gonshor deposed that in 2015 'Atenisi welcomed two new students, one new student in 2016 and eight new students in 2017. As a result of the ban on recruitment imposed by TNQAB in its letter of 22 February 2018, 'Atenisi had forgone certain recruitment activities.
Mrs Jenner-Helu deposed that 'Atenisi's financial situation required delicate financial management. 'Atenisi relied upon tuition fees to cover fixed costs and pay academic salaries. The existence of 'Atenisi was threatened because of its inability to recruit new students. If the recruitment ban continued, the financial impact might result in 'Atenisi's demise.
Considerations
In considering the application for an injunction the judge said there were a number of factors, which led him to conclude that the application for injunction should be refused.
He understood (although there was no evidence on the point) that 'Atenisi's response is that it will suffer harm should the Board publish any information concerning its compliance (or non-compliance) with the Act, as this will affect its ability to attract new students.
"I do not accept this as a reason to grant an injunction," stated the Chief Justice. "It is fundamental in free societies that persons should not be restrained from expressing opinions or disseminating information unless there are pressing grounds to do so. This applies equally in a public sphere to the performance of duties by public bodies and officials as it does to private individuals."
The Chief Justice stated that he must take into account the public interest, firstly, in the position of law for registration of post-compulsory education providers under the Act
"Secondly, there are the interests of prospective students who should be aware that their proposed courses of study are to be delivered by an entity that is not registered under the Act and that any qualifications earned may not be recognised in this country, at least by the largest employer which is the Government of Tonga. The students' right to be informed outweighs 'Atenisi's interest in recruiting them.
"Standing back and looking at the overall justice of the case, the making of the orders sought would serve no useful purpose and 'Atenisi has not satisfied me that it has good prospects of success. The action can be heard on an urgent basis. Whilst 'Atenisi may suffer damage until the case is concluded, the risk of that is outweighed by the public interest in declining the application," stated the ruling.
Claims
In a Statement of Claim 'Atensi asserted that it has operated since 1975.
On 6 March 2018 'Atenisi received a letter from TNQAB dated 22 February 2018 in which TNQAB advised that it considered 'Atenisi was delivering certain unaccredited programmes. The letter required 'Atenisi to provide an action plan of what would be done to accredit those programs and that if 'Atenisi did not comply TNQAB may immediately impose new or amend or revoke any existing conditions on registration or any of its qualifications. 'Atenisi was also advised that it was to cease all recruitment of students in 2018 for all unaccredited programmes.
In respect of the first and second causes of action, 'Atenisi is seeking from the Courts a declaration that it is not required to register or attain accreditation under the Act. 'Atenisi is also seeking a direction that TNQAB reasess its accreditation application applying appropriate criteria, as well as a sum by way of damages to be quantified at trial.
The plaintiffs are represented by Mr. J. Appleby. Mr S. Taione is counsel for the defendant.