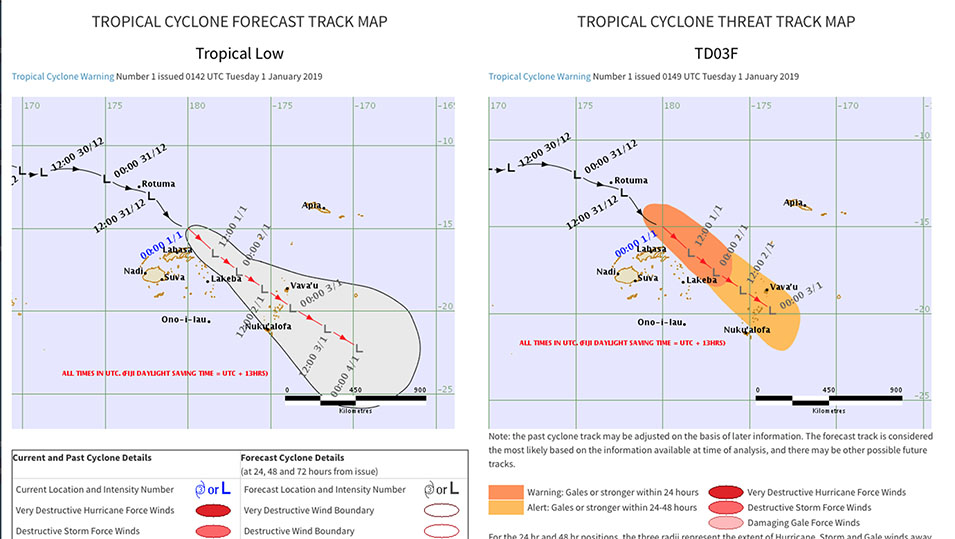 A tropical cyclone warning previously in force for Tonga was cancelled by Tonga Met, in a 7:00pm tropical cyclone advisory, and replaced with a strong wind warning for all of Tonga land areas.
A tropical depression system called 03F, is heading towards Tonga from Fiji and will bring wet and windy weather over the next couple of days.
Tonga Met advised that on its current track the potential for tropical depression 03f to develop into a tropical cyclone in the next 12-24hrs is low.
Gale warnings previously in force for Vava'u and the Niuas are now cancelled.
A strong wind warning and heavy damaging swell warning is in force for all of Tonga coastal waters.
A heavy rain warning and flash flood advisory remains inforce for all of Tonga.
Tropical depression 03F was located at latitude 15.8s and longitude 179.4w or about 350km northeast of Suva, Fiji or 400km west of Niuafo'ou, 660km west-northwest of Neiafu, 700km Northwest of Pangai, 700km northwest of Nuku'alofa at 6:00pm this evening. The system continues to move at a speed of 15 knots (28km/hr) in a southeast direction.
Meanwhile a trough of low pressure with associated strong winds and heavy rain is approaching the group from the west and is expected to affect the group by tonight and tomorrow.
Tonga's cyclone watch is also observing two other tropical depressions 04F and 05F which are forming in the South Pacific.