By Linny Folau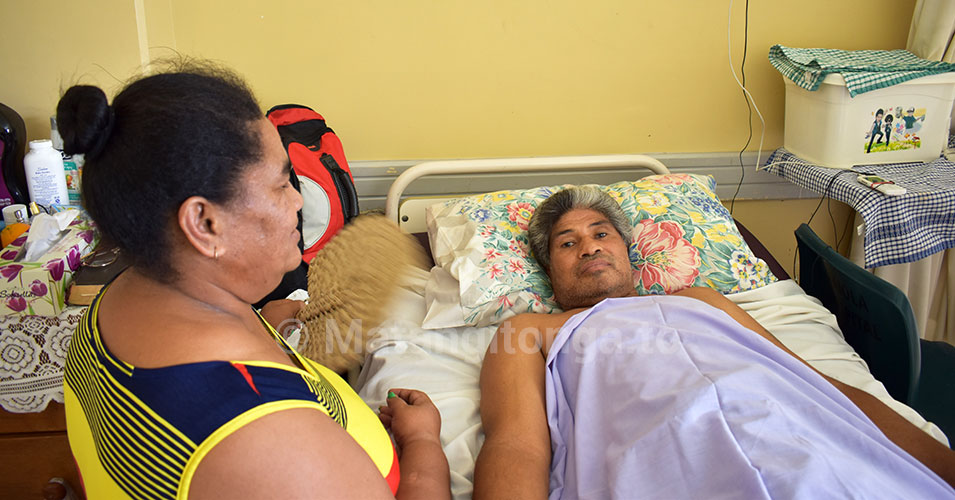 Two severely injured cyclone victims remain stable in Vaiola Hospital today. A man, 'Ofila Havea, suffered a severe spinal injury at Popua,  and a woman, Ying Wang, sustained severe head injuries at Ma'ufanga, during Tropical Cyclone Gita on the night of February 12.
'Ofila Havea (54) a steward at the Free Wesleyan Church in Popua sustained a spinal injury, when he fell from the roof of his church, which has left him paralyzed in his lower body.
"I had gone up to try and fix part of the roof, which was newly extended and was damaged during the cyclone, because we had people inside. I slipped and fell on my back," he said.
"To date I have not felt both legs, while my upper body is fine. I am resting to regain my strength. I will also have to learn how use a wheelchair," he told Matangi Tonga today from his hospital bed.
With his wife Malia by his side, 'Ofila has accepted his condition and says that what has occured has been done. "I am thankful to God's love that I'm still alive despite this serious injury. This hardship, I have accepted it."
His wife said after he fell they kept him at the church until they were able to rush him to the hospital, early Tuesday morning, when the cyclone had died down.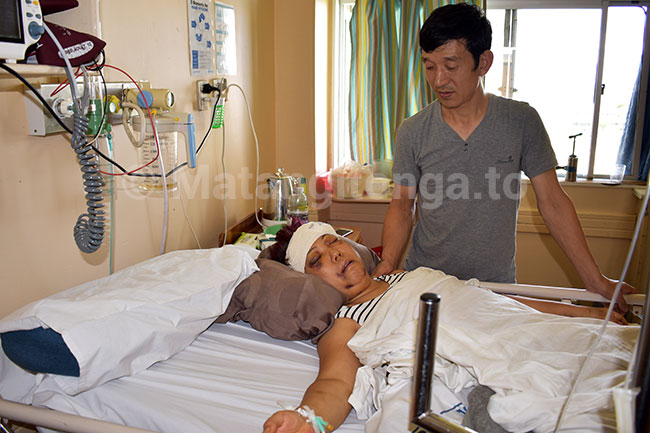 Head injury
At the same time, Ying Wang (52), a long time Chinese Tongan resident, is stable after undergoing surgery for a life-threatening head injury, sustained when the roof of a house fell on her at Ma'ufanga, during the cyclone.
Her husband "Tom" Qiang Zhang who remains by her bedside, said today that Ying's condition is still very serious. She has not been able to see with her left eye and has lost the hearing in her left ear.
But Ying has improved after surgery, and can now eat soft food, drink fluids and has started to talk.
"I received good news that an Australian medical team is here. They came to see her yesterday and said they will be able to operate on her. They are my last hope," said Tom.
He expected they would most likely return to China, once she is able to travel for further medical care.
"I want to thank our friends here for all the support they have shown us," he said.
The couple lived at Ma'ufanga in a house behind their hairdressing salon at the seafront Davina House. Ying was rushed to the hospital by Tom, soon after the roof crashed in on them at around 11:00pm to midnight. 
"It was very hard driving down, trees were everywhere and the wind was so strong. But all I had in my mind was that I have got to get her to the hospital!" said Tom.
The couple have lived in Tonga for many years, having previously run the hairdressing salon at the old International Dateline Hotel. They received awards for their services to Tonga at the Coronation of King Tupou VI.