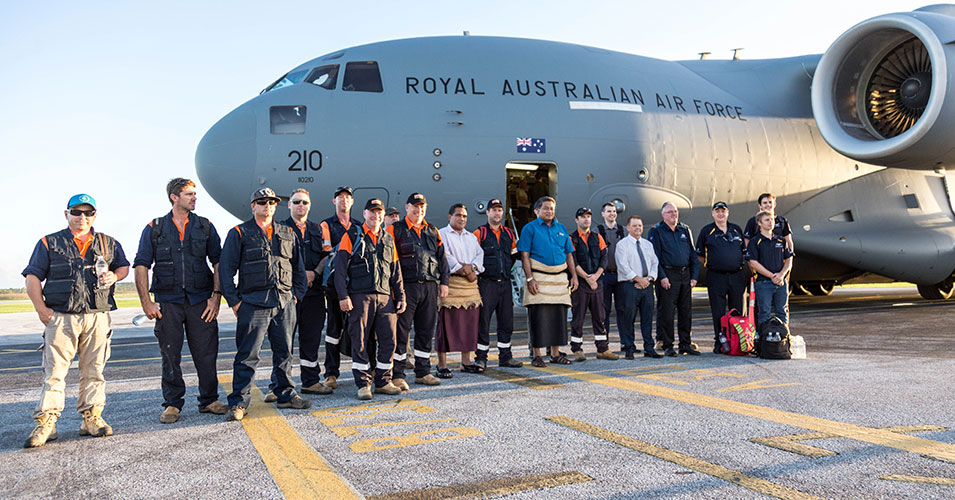 Additional line mechanics have arrived in Tonga to assist Tonga Power with restoration works of electricity in Tongatapu.
The Minister for Public Enterprises and Health, Hon. Dr. Saia Ma'u Piukala through the CEO of Tonga Power Ltd (TPL), requested emergency assistance from the Government of Australia and New Zealand to help restore power in the aftermath of Cyclone Gita.
In response to the request from Tonga Power, the Government of Australia provided nine line mechanics, accompanied by a technical supervisor and a government liaison officer. The team are in Tonga to support TPL to accelerate and restore power to existing distribution networks.
The Australian High Commissioner to Tonga, H.E Mr. Andrew Ford said, "Australia has responded quickly to a request from the Tongan Government received on 19th February to support Tonga Power Limited in the repair and reconstruction of its Transmission and Distribution network, which suffered extensive damage by Tropical Cyclone Gita." 
The New Zealand Government will also provide nine former TPL line mechanics, currently employed in New Zealand, who are expected to arrive at the end of the week.
Part of the requirements was for personnel to be certified as Level 4 line mechanics to ensure that they are working to the same competency levels as Tonga Power Limited, suitable for the restoration works and to meet TPL construction standards.
Robert Matthews, TPL CEO said "The deployment of these line mechanics will benefit Tonga Power Ltd. This initiative would not be possible without the assistance of the Australian Government coordinated through DFAT" 
He adds, "The damage from Cyclone Gita was so extensive that the request for help extended to energy companies abroad. With the additional support from the Government of Australia and soon to be deployed line mechanics from the Government of New Zealand, the restoration time frame is expected to be reduced from seven weeks to around four or five weeks".
Since the cyclone hit Tonga on Monday, 12th February, our line mechanics in particular, have been working extensive hours to restore electricity services to the people."
Over 50% of the Tongatapu network and close to 15% of the 'Eua network was severely damaged by the cyclone.
TPL is utilising all its available resources including line workers, meter readers, project teams and support staff for the power restoration works, with the initial focus being on restoring essential services. More resources have been moved over from Ha'apai and Vava'u to help reduce the restoration time.
The line mechanics bring with them all personal protective equipment, electrical tools, plant, equipment and materials from various organizations in Australia including NJ Constructions, Evoenergy and Essential Energy.
The team will work under the supervision of Setitaia Chen, Tonga Power GM Operations who has spearheaded the recovery project to date.
#4306 20180302