Photos by Pesi Fonua and Linny Folau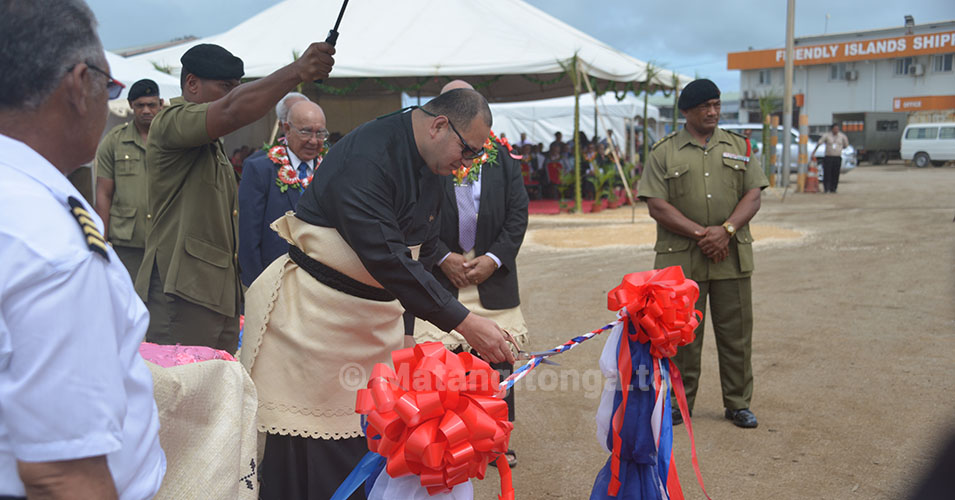 King Tupou VI today, 12 January launched the MV Tongiaki,  at Queen Salote Wharf.
The $8.3 million pa'anga aluminium catamaran will offer high speed service throughout Tonga's groups of islands and also to Samoa and Fiji.
The catamaran (kalia) 32.7m long, is fully air-conditioned, carrying up to 200 passengers in comfortable seating.
Stephen Edwards, the Chairman of the Friendly Island Shipping Agency (FISA), at the launch today, said he was convinced that the MV Tongiaki will improve the shipping services within Tonga and our neighbouring island countries.
He said that in the past FISA had charted a catamaran from Australia at $10,000 a day when their passenger ferry, the MV 'Otuanga'ofa lost one of its rudders. Even with such a high charter cost, FISA managed to make a profit from the exercise. Stephen was optimistic that the FISA's $8.3m investment will be a success.
Mosese Fakatou, FISA CEO, said that the MV Tongiaki is capable of travelling at 31 knots, but because they would like to cut down on its fuel consumption they will cut down in speed and travel only at 21 to 22 knots.
The MV Tongiaki will make its maiden voyage in Tonga to Ha'apai and Vava'u tomorrow, Saturday morning, leaving at 8:00am, and is scheduled to be back at Nuku'alofa at 7.30pm the same day.