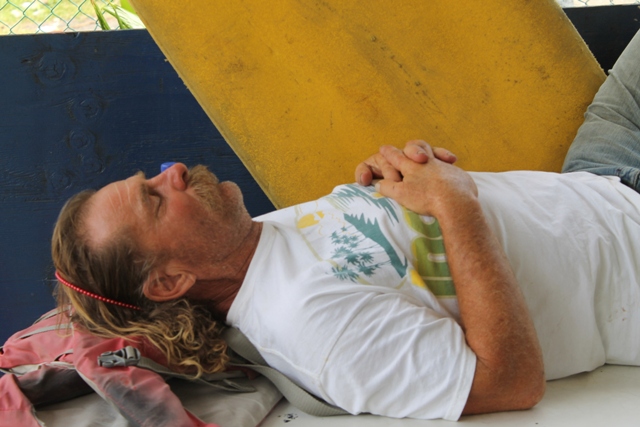 American, Dean Jay Fletcher (54) who is wanted in Tonga on the charge of brutally murdering his wife in July 2016 has been ordered released in Hawaii after the United States District Court on November 1 ordered the dismissal of his extradition.
The Tonga Government sought Fletcher's extraditon for the offenses of murder, manslughter, and inflicting grievous bodily harm.
The US Secretary of State had, "determined that Fletcher could not be guaranteed a fair trial in Tonga" because he did not have funds to defend himself.
"In this case, if convicted of the most serious charge, Fletcher would have faced a mandatory penalty of death or life imprisonment under Tongan law," a US Department of State letter that authorised Fletcher's release from US Custody, stated on October 31.
The Department of State advised the US Office of International Affairs that the Secretary of State Tillerson had exercised his discretion and declined to order Fletcher's surrender to the Kingdom of Tonga.
"The government respectfully requests that the [US] court dismiss the instant proceeding, vacate its order of detention, and order Fletcher's discharge from custody," it declared.
Fletcher is accused of murdering his wife Patricia Linne Kearney, a Canadian citizen, on July 6 last year on their yacht Sea Oak, moored at Neiafu, Vava'u.
Absconded
He escaped custody from a Tonga Police station in Neiafu at around 3:30am on September 29, and fled on his yacht. Using flares, he held off a small police boat that pursued him into open waters.
Fletcher absconded to American Samoa, where authorities captured him.
On November 22, he was handed over to three U.S. Marshalls and escorted from Pago Pago to Hawaii, where he appeared at a Federal Court in Honolulu.
Documents submitted to the US courts be Tonga gave detailed accounts of Fletcher's alleged brutal assault of Kearney on their dingy and on board the yacht.
The couple had first arrived in Vava'u on May 26, 2016 on their yacht Sea Oak, and docked at the Puatalefusi Harbour, where the crime is alleged to have occurred.
The extradition package from Tonga included sworn statements of three Tongan eyewitnesses who observed Fletcher assulting Kearny.  "These witnesses' testimony establishes probable cause that Fletcher assaulted his wife, either intending to cause her death, or, intending to cause her bodily injury which he knew was likely to cause death," the order of commitment stated.
"These individuals, from a short distance away, observed Fletcher inflict significant blows to Kearney's head, neck,and mid-section. The autosy report also received into evidence... identify these as the areas where Kearney suffered trauma which caused her death."
Extradition
After his first appearance on November 22 and a detention hearing on December 1, 2016 the Honolulu court detained Fletcher without bail. 
On December 6, 2016 a request for his extradition was submitted from Tonga and was referred to the Department of State. 
Following a briefing on January 10 this year, the Hawaii court held an extradition hearing to determine if Fletcher should be committed to the Secretary of State for extradition. The Courts stated that the United States' extradition Treaty with Tonga was in full force and effect.
On February 1 this year, the court issued a "Certification of Extradibility and Order of Commitment" and the order certified as extraditable those offences the U.S submitted to the court on behalf of Tonga that is murder with intent, murder by recklessness, manslaughter and grievous bodily harm. Certification was delivered to the Secretary of State for further action.
However, following the extradition hearing Fletcher made submissions to the Secretary of State regarding the prospect of his surrender to Tonga. His defence against extradition for the crimes including murder with intent, was on humanitarian grounds.
This defence was accepted by the Secretary of State.
The State Department noted in its decision that, "although the United States does not, as a rule seek to impose our constitutional framework on legal systems of countries requesting extradition," that they were unable "to reach an agreement with Tonga with respect to certain relevant assurances" and so the extradition was denied.
Tonga
Tonga's Acting Attorney General 'Aminiasi Kefu was not available for comment this morning.