Photos by Peter Poulsen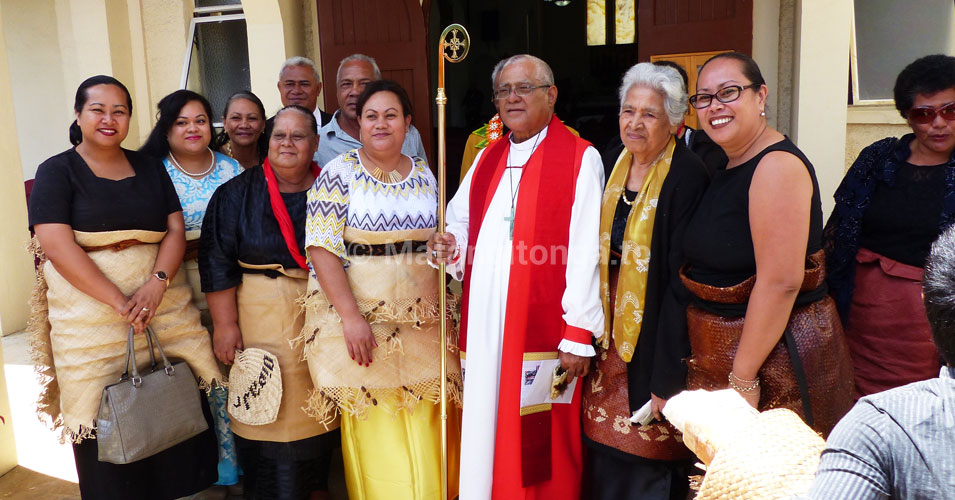 The first Anglican Bishop of the newly-constituted episcopal unit of Tonga, Rev Dr 'Afa Vaka made history on Sunday 17 September, when he was ordained at St Paul's Church in Nuku'alofa.
The ordination service was presided by Archbishop Winston Halapua of the Diocese of Polynesia and Archbishop Phillip Richardson of the New Zealand Diocese. Taking part in the service were the Tonga Episcopal Choir and St Andrews High School brass band. 
Guest of Honour, Hon Frederica Tuita Filipe, and Anglicans from all over Tonga and overseas, including lay ministers, clergies, bishops and assistant bishops, attended the service, with crowds of church goers to witness the special occasion.
Heads of other Tongan churches, including the Free Wesleyan Church and Free Church of Tonga also attended.
Following the service, a ordination lunch program was held in the hall and later an evening song of praise and farewell program.
Bishop 'Afa Vaka
Bishop 'Afa Vaka comes from an Anglican family, with other members of his family ordained priests.
A former head boy of St Andrews High School, Bishop 'Afa was a teacher and principal at the school. He has a Bachelor of Education from  the University of the South Pacific.
In 2003, Bishop 'Afa took a scholarship to St John's College in Auckland and was ordained into the priesthood. In 2006, he returned to Tonga and was appointed Enabler for the Anglican Training Centre.
He has served as full-time priest-in-charge of St Barnabas Church in Mataika.