By Eleanor Gee
Climate change impacts are evident everywhere in the Pacific, where many communities are on the front line of its damaging impacts, said Australia's Ambassador for Environment Patrick Suckling, who is visiting the Pacific region.
In Nuku'alofa on 23 August 2017, Mr Suckling offered Australia's support in tackling this urgent challenge.
"I've been to five Pacific countries this trip and everywhere I've been, I've heard stories and seen evidence of the damaging impacts of climate change."
He said the cyclone that hit Vanuatu "took out two thirds of GDP" and after Cyclone Winston hit Fiji it "took out a third of GDP".
"So [there are] big devastating impacts from major storm or cyclone natural disasters, but also coastal inundation.
"I saw coastal erosion and communities being affected by coastal invasion because of the rising seas."
He also said that agricultural communities suffered prolonged droughts which raised issues with food security, water security, health, and nutrition for children.
He said that Australia has made significant commitments to the region and wanted to see if they can improve or do more. He is talking to governments around the region "about how we're going with our support so far".
He said Australia would continue to "stand shoulder to shoulder" with Tonga and the Pacific region and provide support as part of their Paris Agreement commitments.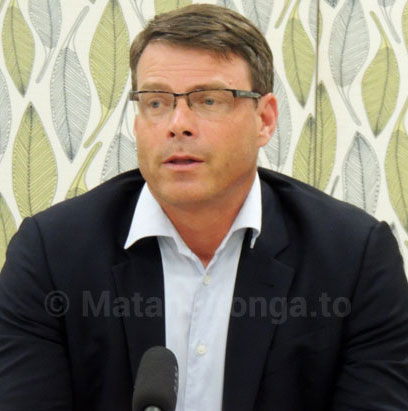 Renewable energy
"In Tonga we're supporting renewable projects and we have climate embedded throughout our health and education programs here as well."
He said he spoke with Tonga's Deputy Prime Minister, the CEO's of government departments and the power company about progress on climate change projects. He thinks Tonga is heading in the right direction to reach its goal of 50% of renewable energy by 2020.
"Tonga should have an ambitious target to do the best that it possibly can to get as far down the road as it possibly can in transforming its energy sector. And certainly the stories I'm hearing from the Deputy Prime Minister down is a good story."
Security threat
The ultimate climate change threat is that of rising sea levels causing Pacific countries and territories to lose their homes. This means the only option they might have is to relocate to bigger countrie, and  Mr Suckling said Australia is involved in discussions around this possibility.
"Yes, there's the ultimate security threat for some countries, and I was talking to the Prime Minister of Tuvalu and he is very concerned his country may not exist in a few decades time. And so on that basis there are discussions in the region through a platform to discuss migration issues on thinking through what the implications of that security threat is if it happens. And Australia is involved with those."
Climate Change Funding
Australia is investing around $20 million in climate change support to Tonga between 2016 and 2020.
Last September, Australia announced a $300 million climate change package for the Pacific region over the next four years, forming part of its $1 billion five year climate finance commitment under the Paris Agreement.
Mr Suckling said much of that money will come to this region or into the Indo-Pacific region and priority areas to support developing countries on climate change.
"Through our aid policy, through our technology, through our capacity building, we have to support the people of the Pacific to build their resilience and their ability to adapt to climate change."
In addition, Australia is co-chair of the Green Climate Fund.
"One of the objectives in that role was to encourage more projects to be financed in this region.
"We've been reasonably successful in doing that so far – so about 11% of decisions made by the green global fund globally have been for projects in this region – about $251 million - that's significant," said Mr Suckling.