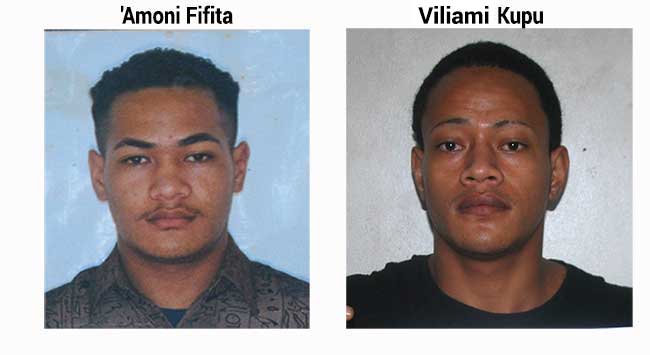 Tonga Police warned this evening that two men described as "armed and dangerous" are on the run after escaping from the Nuku'alofa Central Police custody early this morning, Tuesday, 31 January, and their Tactical Response Group has been deployed.
"The two escaped prisoners are armed and dangerous. Do not approach them," warned Deputy Commissioner Pelenatita Fe'ao Vaisuai.
Viliam Kupu and 'Amoni Fifita aged in their 20's were last seen at around 3:00pm today at Kolovai, Tongatapu, where they robbed a shop owner at gun-point.
"Kupu was wearing a black t-shirt with black shorts and Fifita was wearing a white sleeveless t-shirt, greenish shorts and a blue cap," she stated.
Kupu was in custody for grievous bodily harm charges and Fifita for robbery/theft charges
"Kupu and Fifita are considered dangerous and for this reason the Tactical Response Group was deployed," said Dep Com. Vaisuai.
"If anyone has information on their whereabouts they can contact their local police station. If you see them, please do not approach and call 922 immediately."
"We remind anyone who may be helping Kupu and Fiffita that assisting a prisoner to evade Police is a crime."