By Finau Fonua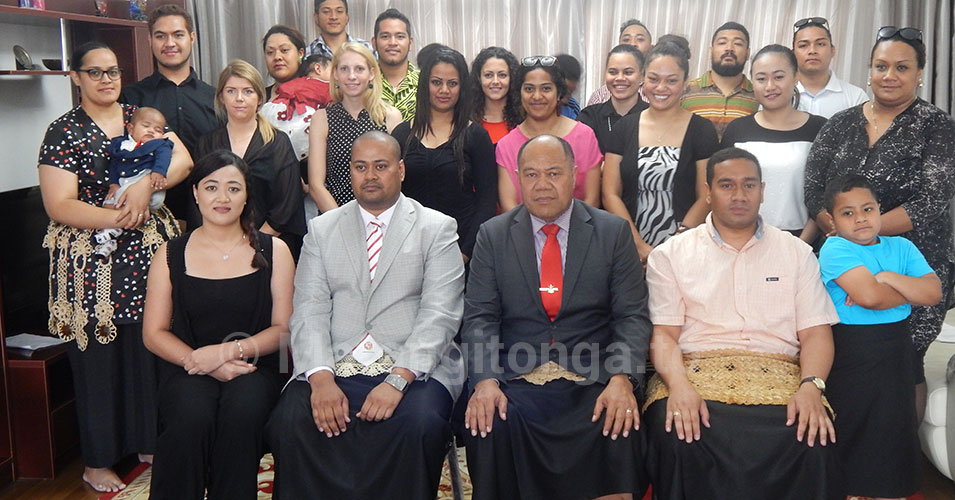 Hardworking Tongan students in China are motivating each other to succeed in their studies. During a Lotu faka famili last week at the Tongan Embassy in Beijing, students celebrated the success of Curtis Tu'ihalangingie and Sulieti Latu, who recently completed their university degrees in China.
Curtis Tu'ihalangingie of Kolomotu'a graduated with a Masters of Law majoring in International Relations from Peking University, while Sulieti Latu of Tatakamotonga graduated with a Bachelor's Degree in Law from China University of Political Science and Law.
Following his graduation ceremony on July 1, Curtis told Matangi Tonga Online, "My advice to my fellow Tongan students here in China, in Tonga or elsewhere is to remember who we are, where we come from and always put our family, our King, our country and god as our motivations. Go out there represent Tonga with pride and showcase who we are and what we are. Doesn't matter where you study at, we belong to a global community where we can educate professors, students, friends and others about our culture, history and traditions."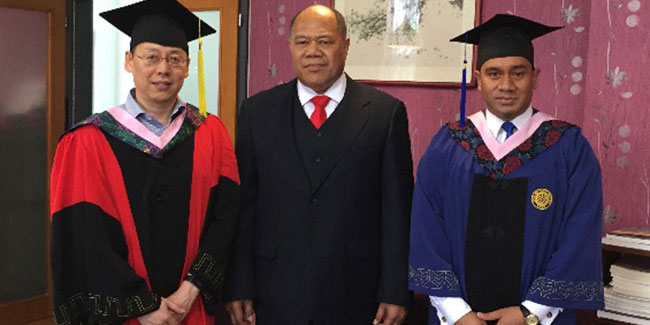 In a monthly Lotu organised by the Tongan Embassy on Sunday June 26, Tongan students from Beijing and Tianjing, along with some foreign classmates gathered with prayers, testimonies and hymns to both celebrate and encourage each other in the midst of their final exam periods. Tonga's Ambassador to China HE Tau'aika 'Uta'atu and his secretary Tupou Vaipulu along with recent graduates Curtis and Sulieti encouraged Tongan students to make the most of their academic opportunities in China. They reminded students to be good ambassadors for Tonga and at the same time to enjoy their time as young students.
During the Lotu, Curtis handed over his position as President of the Tongan Students Association in China to Taniela Latu, an undergraduate studying towards a Major in Chinese Language.
International Relations
According to China's Ministry of Foreign Affairs, 151 Tongan nationals studied or trained in Chinese universities, colleges and workshops in 2015. The Tongan Embassy in China estimates that there are currently around 50 Tongan students on scholarships attending universities in China.
In 2014 Curtis graduated with a B.A. in Diplomacy and was the first Pacific Islander to graduate from Peking University. He has been studying in China for eight years. He said, "It's a great feeling to be able to complete something that was not easy to accomplish, especially when one puts all the effort, energy, time and knowledge to make sure it's a well done job."
Curtis said he was inspired to study international relations and diplomacy after working as a personal assistant for the late King Taufa'ahau Tupou IV from 2002 to 2006. "During that time in Tonga and abroad I learned first-hand from his leadership, his love of country, his love to his people, the art of diplomacy, art of protocol and art of international affairs. I took what I learned from His Late Majesty to Peking University, then combined it with academic experience and knowledge," he said.
Language
Tongan students agreed the biggest challenge to studying in China was learning the Chinese language and completing exams without calculators. As a prerequisite foreign students had to learn to read and write Mandarin - a language they had never studied before.
"It's not an easy language and I studied only two years of the Chinese language before I continued with my undergraduate and masters," said Curtis.
Despite the language barrier, he said studying at a prestigious university like Peking University provided him with unique opportunities.
"Taking classes and meeting world leaders are a norm in my field of study. Peking University helped us to learn about life, problem solving, leadership skills and cooperate with others. While here in China, I met with the President of China, President Xi JinPing, Li Keqiang Premier of China, and world leaders like Hillary Clinton, Michelle Obama, Kofi Annan, Al Gore, Kevin Rudd and they all widened and expanded my knowledge through talking to them and learning from them".
Curtis said that studying in China also provided the opportunity to meet students from around the world who were also studying in China.  
"The best part of studying in China is meeting new friends/people from China and from all over the world. I have learned a lot from them, I learned from their culture, history, ideology, traditions and knowledge," he said.
Matangi Tonga Online journalist, Finau Fonua, visited China under a programme for Pacific Islands Countries Media, 13-23 June 2016.