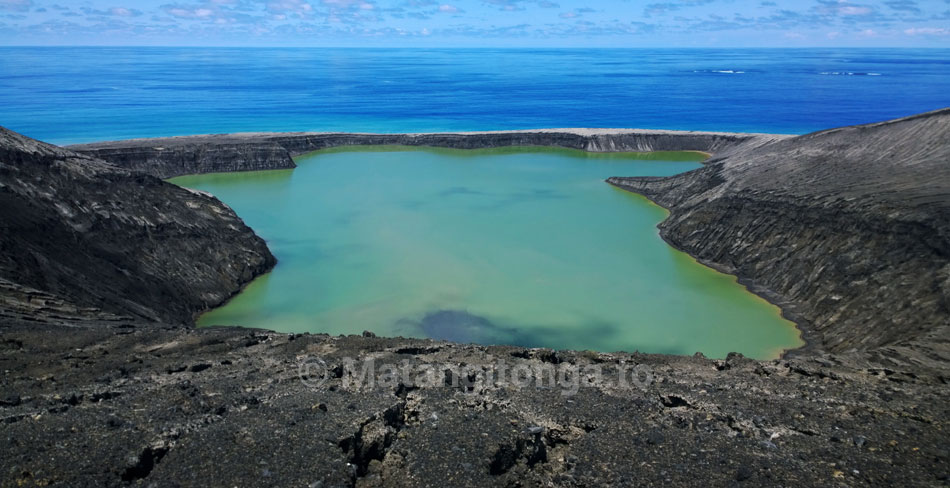 Stunning landscapes around Tonga's newest volcanic island have attracted sightseers and adventurers.
Nuku'alofa businessmen GP Orbassano and Branko Sugar visited the island on Saturday March 6. In a risky adventure they landed on the black beach and climbed to the highest point of the crater rim where GP photographed the green crater lake that smells of sulphur.
In January the same crater was venting steam and ash explosions. The eruption has built a new island that forms a trio, joined to the older Hunga Ha'apai and about 200m short of Hunga Tonga.
"It was a perfect day, with fantastic views - bright blue sky and the sea was the same colour as the sky," said GP. "From the top we could see all the way to Tofua on the horizon in Ha'apai."
He admitted the climb was dangerous and that it was excessively hot on the black landscape. 
"The island is double the size of Fafa. There is a lot of rock, it's not just ash. It looks like the moon."
The cone shaped island is covered with deep channels that are unstable to walk on, but GP thinks that because the island is so high it will last a while and not disappear.
"There are thousands of seabirds - all kinds, laying eggs on the island," he said.
GP believes that the natural beauty of the location viewed on a fine day and the different aspects of the island, could make it a scenic attraction for visitors, at least for offshore viewing.