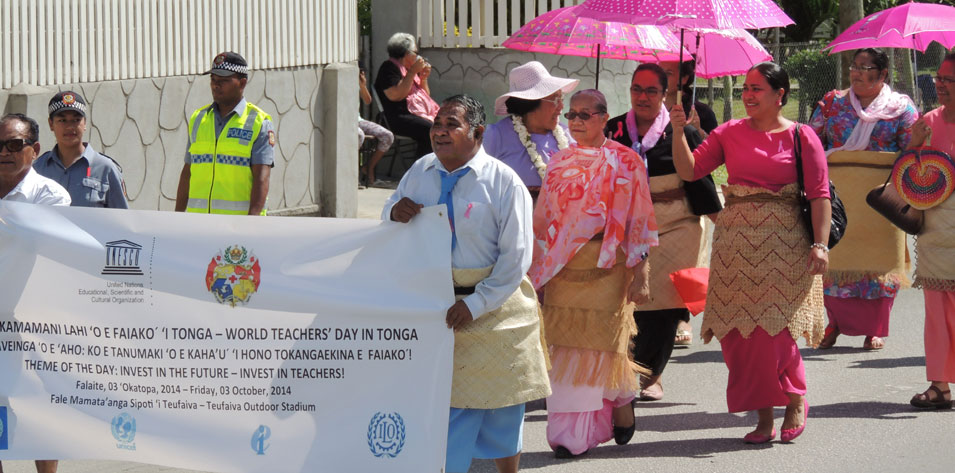 Hundreds of teachers paraded through central Nuku'alofa today to commemorate the World Teacher's Day 2014 under a theme 'Invest in the future, invest in teachers'.
The day marked annually on October 5 was celebrated early in Tonga with the special program that included the colouful parade and entertainment by students at Teufaiva Outdoor Stadium.
The Minister of Education and Training Hon Dr 'Ana Taufe'ulungaki led the parade from Vuna Wharf to the stadium. Most of the teachers came out wearing pink in support of Tonga's Pink October breast cancer awareness campaign.
At the stadium, Lady Tuna Fielakepa, a retired teacher, read out the World Teachers Day Joint UN and EI Message and that said "an education system is only as good as its teachers".
"Teachers are essential to universal and quality education for all: they are central to shaping the minds and attitudes of the coming generations to deal with new global challenges and opportunities. Innovative, inclusive and results focused teaching is crucial for 2015 and beyond if we are to provide the best possible opportunities for millions of children, youth and adults worldwide."
Items were performed by one school from each education system that included the Government, Catholic, Free Wesleyan Church, Church of Jesus Christ of Latter-day Saints, Seventh Day Adventist, Ocean of Light, Anglican, Tokaikolo, Free Church of Tonga and the 'Unuaki 'o Tonga Royal Institute.