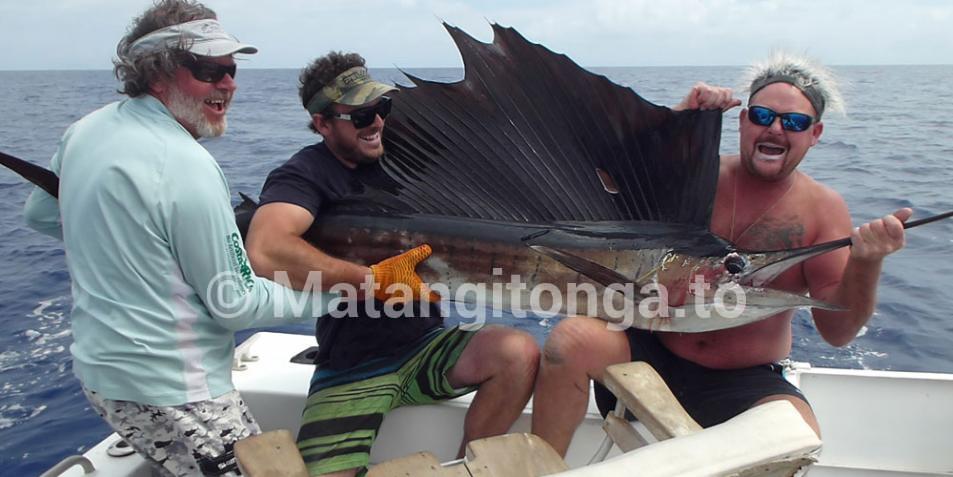 A Billfish (Sail fish or Hakula lala) caught by Lavinnella anglers. Vava'u. 8 September 2014.
Photos courtesy Tongan International Billfish Tournament
Two women, Denise Knutson and Lesley Longdon, were the top anglers in the annual International Billfish Tournament held in Vava'u, Tonga, last week, 5-9 September 2014.
Nine boats and 37 anglers from Tonga, New Zealand and Australia joined the four day 23rd Tongan International Billfish Tournament, fishing for billfish such as Blue Marlin (Hakula) and Sail Fish (Hakula lala).
The tournament's director Jeff Le Strange said that a total of 28 fish were tagged or captured in the competition that has been running for 23 years.
"The week long event has injected well over $250,000 into the Vava'u economy," he said.
Over the four days of the tournament there were 86 strikes, 58 hook-ups with 25 fish tagged and released and three captured. Of the tagged fish, 20 were Blue Marlin, one Striped Marlin, three Sailfish and one Shortbilled Spearfish. All captured fish were Blue Marlin, which weighed in at 132kgs, 145kgs and 171kgs. "This year saw every boat scoring in the tournament with an average of just over three billfish per boat. This is on par with previous years," said Jeff.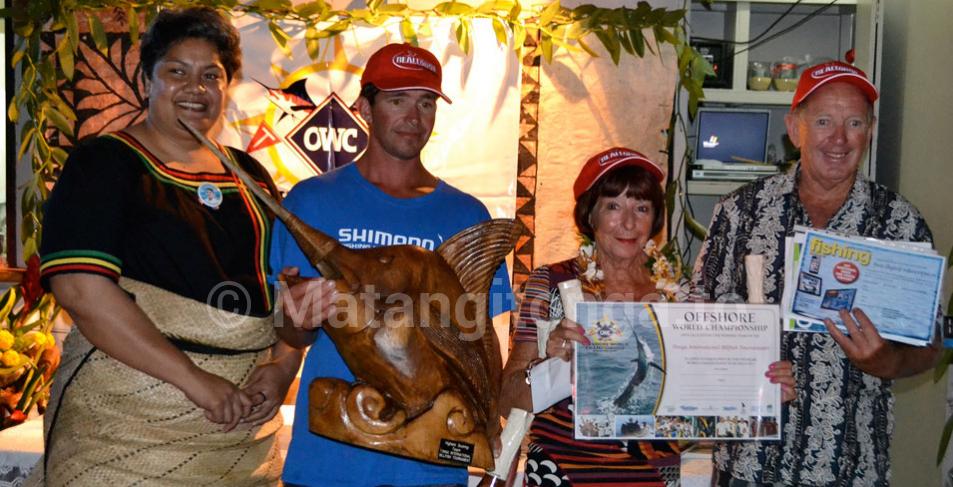 Winning Lady Angler and all round winner, Mrs Denis Kuntson (third from left). Vava'u. 9 September 2014
The 2014 winners were:
Teams:
'The 3 Musketeers' on Escapade (18,000 points);
'Tackle World' on Reel Addiction (13,750 points);

"

Back in Black" on Back in Black (9,680 points).
Anglers:
Denise Knutson (Escapade) with five tag and release Blue Marlin for 15,000 points;
Lesley Longdon (The Godfather) with one tag and release Shortbilled Spearfish, one tag and release Blue Marlin and 1 captured Blue Marlin.
Cam Haliday (Back in Black) with two tag and release Blue Marlin for 6,000 points.
"This small tournament is becoming more popular – so much so that the Vava'u Sport Fishing Club has decided to limit future entries to a maximum of 12 boats." said Jeff.
The 2015 tournament will run from September 10-17.