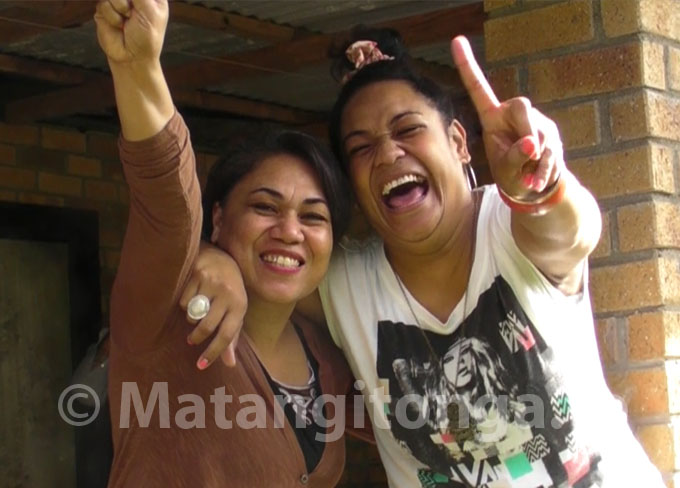 At Houma, the Niupalau family cheers for their own Olympian Valerie Adams
When Valerie Adams won a Silver Medal for New Zealand in the women's shot-put at the London Olympics this morning (Tonga time), her extended family at her mother's native village of Houma, in Tongatapu was cheering with pride.
Valerie, who exceeded her previous gold medal performance in Beijing, was up against a strong competitor in London,  and was disappointed to come in second to Nadzeya Ostapchuk from Belarus who won the Gold in the event's final.
Valerie adds her silver medal from the 2012 London Olympics to her achievements with three world championships, two Commonwealth golds and an Olympic Gold Medal at the Beijing Olympics in 2008. 
Lord Vaea, the noble of Houma and Minister for Internal Affairs responsible for sports development in Tonga, congratulated Valerie on her silver medal.
He said the people of Houma where her late mother came from the Niupalau family, "are immensely proud and happy with her achievement to take silver at the Olympics".
"Since a young age she has achieved great success to get to the highest international spot and remain in that top level in such a high disciplined sport. She is a great role model for Tongan girls and the people of Houma congratulate her," he said.
Proud
Her mother was Lilika Ngauamo. After the finals this morning Valerie's youngest aunt Kasanita Niupalau, Grandma Ane Popua Niupalau and uncle Tevita Punou (81) and family members, gathered at the family home on the road to the famous blowholes.
Kasanita said they were very proud of Valerie's performance and sent her their love from Tonga. "Even though Valerie took silver she is number one to us, and I know her mum is watching on proudly from somewhere," she said in tears.
"Congratulations Valerie and go Houma pride!" cheered the family.
Valerie (28) was born in Rotorua, New Zealand. She last visited Tonga in December, 2008 with her gold medal after her win at the Beijing Olympics.