Two Tongan grandmothers who attended India's Barefoot College in 2011, have returned home with new skills ready to start installing new solar panels to provide electricity in under-privileged homes in their swampland community of 'Isileli.
The two new "Solar mothers" Siutiti Halatoa (51) and Siale Leohau (47) returned to Tonga in September, 2011 after successfully completing a six months training course in solar power installation at Barefoot College, India, under the sponsorship of the Indian Government.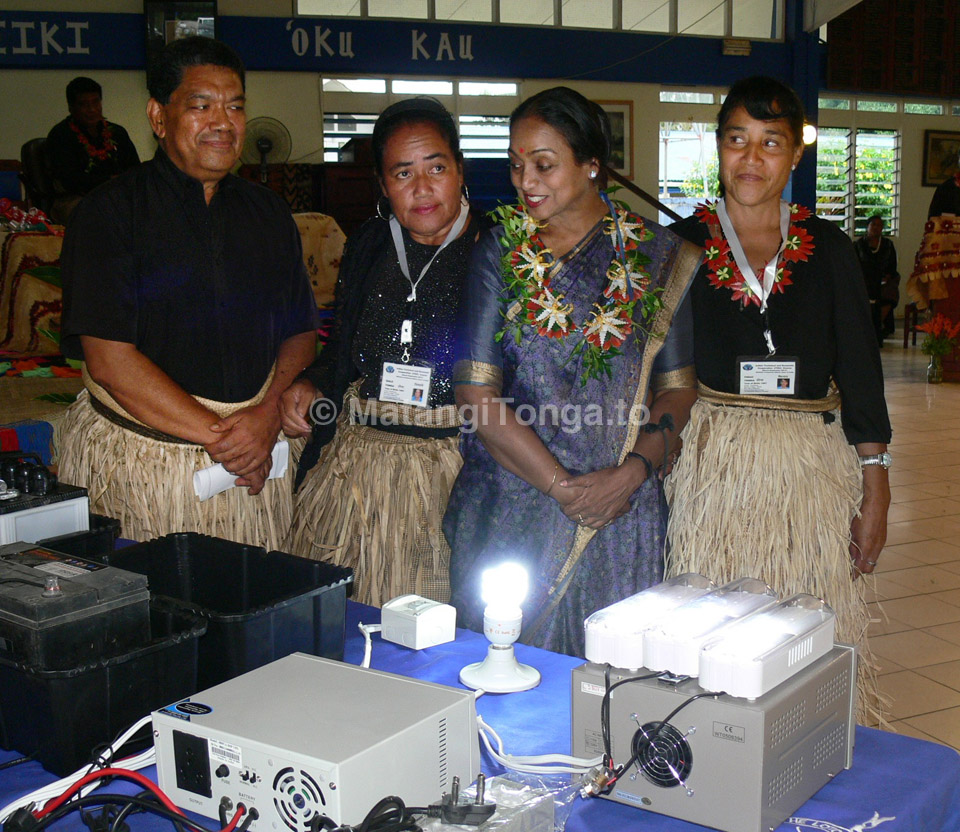 From left, Sione Tupouniua, Siale Leohau, Madam Meira Kumar and Siutiti Halatoa with the new solar units that will bring power to 'Isileli homes
A Kolomotu'a Women's Solar Project launched on April 19, 2012, in Nuku'alofa will support the women in their new responsibility for the installation and maintenance of solar equipment in their community.
The solar project was launched by Hon. Meira Kumar, the Speaker of the Parliament of India, who attended the Executive Meeting of the Commonwealth Parliamentary Association held in Nuku'alofa last week.
Community
Sione Tupounia, the project's Tongan counterpart and community facilitator, told Matangi Tonga this afternoon, that the grandmothers were the first women to be trained in solar installation in Tonga and that by next week they would start installing solar panels in over 30 homes, starting with homes without electricity in the 'Isileli, Hala 'o Vave and Sopu areas. They had received a full container load of solar panel equipments given by an anonymous philanthropist.
"We should start installation next week and we thank the Tonga Energy Road Map (TERM) under the chairman of the Prime Minister Lord Tu'ivakano in supporting our project," he said. "This is a community driven initiative and we should take up more community initiatives instead of always waiting for Government to do something, because I believe this will lead to a more successful development."
Each home will be supplied by a solar unit that will provide enough free power for three light bulbs and one mobile phone charger, he said.
Empowerment
Siutiti said the two women had enjoyed their training in India, and had no trouble completing what was required of them at Barefoot College.
She said they were grateful to have been given an opportunity to study abroad, which had empowered them to learn about solar power installation in order to help their community enjoy a better lifestyle.
In February last year, the two women accepted an offer by Bunker Roy, the Director of Barefoot College, to study at the institution, which trains older women from poor communities in technical skills.
Barefoot College does not issue certificates. The women's achievements will be recognized by the community from the number of solar panels that will be installed in homes.