A Colombian-led crime syndicate is the second international crime group to have set up in Tonga during the past 18 months, in what the Sydney Morning Herald on Saturday, December 17, reported has been a trend for organized criminals to use nations with weak institutions and corruption.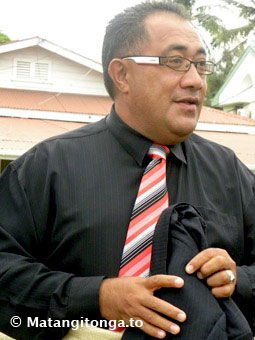 An article headlined: "Tongan Speaker helped drug team, say police", illustrated the "Tongan Pipeline", showing how Colombian cocaine is smuggled into Australia and China via Tonga.
The Assistant Commissioner of the Australian Federal Police's anti-organised crime operations Kevin Zuccato told the Herald that, ''The fact that you see an organised crime group from Colombia and Peru actively engaged in places like Tonga and then moving that narcotics to Australia . . . . is just another example of how large and sophisticated these groups are.''
The Herald went on to reveal that an Australian Federal Police-led inquiry, Operation Stair, had uncovered a global trafficking operation that allegedly used yachts to sail cocaine from South America to Tonga, before allegedly smuggling the drugs onto container ships to be transported to Australia and China.
Columbian drug boss
Under Operation Stair, the Herald reported that late in 2010 the criminal syndicate allegedly bribed the then Speaker of the Tongan Legislative Assembly, Lord Tu'ilakepa, to sponsor a Colombian drug boss to come to Tonga.
The drug boss, Obeil Antonio Zuluaga Gomez wanted to direct an alleged operating hub from Tonga and to oversee cocaine shipments. Tapped phone calls revealed that the Colombian-led group sought the help of Lord Tu'ilakepa late last year to help Gomez get a visitor's visa.
In a letter to the head of Tonga's Immigration Department, Lord Tu'ilakepa allegedly wrote: "I, Lord Tu'ilakepa, Noble of the Realm and Speaker of he Legislative Assembly of Tonga would sponsor the visa of Obeil Antonio Zuluaga Gomez. I guarantee that I will be providing the necessary housing and financial support to this person (Gomez) and take full responsibility for him during the duration of his stay.
Tu'ilakepa's letter allegedly stated "I can also vouch that the aforementioned is an honest, trustworthy and law abiding person."
The Herald reported that Gomez had been previously imprisoned for drug trafficking.
Shipments
Operation Stair arrested and charged four people in Australia last year over an alleged conspiracy involving two alleged shipments, 190kg and 500kg of cocaine. Several members of the syndicate were also arrested in Tonga and in China, but no cocaine was recovered.
A number of police raids in Tonga, prompted by Operation Stair resulted in the Lord Tu'ilakepa being charged with drugs and weapons offences this year although, until now, Lord Tu'ilakepa's alleged role in the global conspiracy has remained a secret, but he remains a member of the Tongan Parliament.
Just last week Lord Tu'ilakepa appeared in court to face these charges, but the hearing was deferred to next year.
Business as usual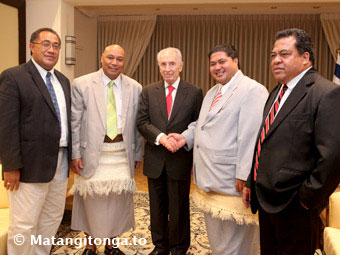 Representing Tonga last month, Lord Tu'ilakepa led a four-members delegation from the Tongan parliament to Israel on November 16. During the five days that Lord Tu'ilakepa and his delegation were in Israel they visited Jerusalem, and they also met Israeli President Shimon Peres.
The Tongan parliamentary delegation to Israel originally included the current Speaker of the House, Lord Lasike, but it was discovered after the delegation returned from Israel that Lord Lasike did not complete the trip that he supposedly started. The Clerk of the House Sione Tekiteiki confirmed yesterday, December 19 that the Speaker Lasike "was sick", and instead traveled to the USA to get married. The trip of the Tongan parliamentarians was jointly funded by the Tongan parliament and the Israeli Parliament.