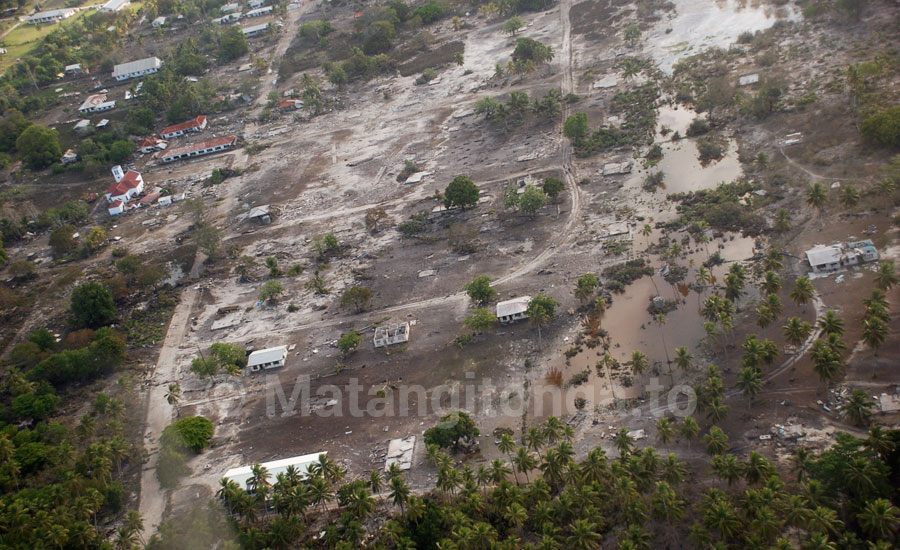 Nine people have been confirmed dead at Niuatoputapu tsunami disaster which struck the island early on Wednesday morning, September 30 Lt Commander Solomone Savelio announced in a media briefing this morning, Oct 2 at Sene, the Tonga Defence Service headquarter.
Solomone said that the TDS patrol boat Voea Neiafu arrived at Niuatoputapu yesterday evening, and they have set up a Command Base at the Niuatoputapu High School and a Medical centre at the Hihifo Free Wesleyan Church Community hall. He said that doctors and nurses went up on the Voea Neiafu, but medical supplies were flown up yesterday on a 7-seater chartered aircraft.
The Director of Health, Dr Siale 'Akau'ola said that four critically injured persons who were flown down to Nuku'alofa on the chartered aircraft were admitted to intensive care at Vaiola Hospital, and today three of the patients have recovered and the fourth patient is in a more stable condition.
The four patients included a couple, Paea Kuma 24, and his wife Veteange 'Akau 38, and their four-year-old son Nasio 'Akau. The fourth patient is Sulifa Losalu 65.