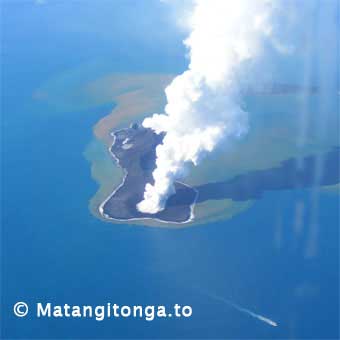 The eruption of the tiny volcanic island of Hunga Ha'apai, 62 km away from the capital Nuku'alofa, could be seen glowing on the horizon last night and has become a tourist attraction today with charter boats and flights taking people on short excursions to the area.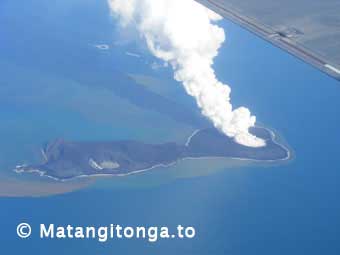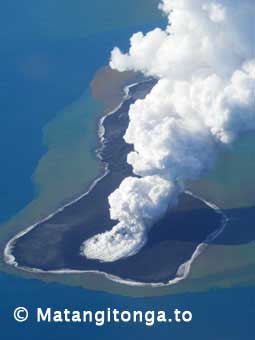 The massive eruption has been the talk of the town since the plume of the double venting was first sighted late on March 17.
The wind has been blowing the huge column of smoke and ash away from Tongatapu and today it was noticeably less than Wednesday's peak activity.
Hunga Ha'apai is a remnant of the rim of a submarine caldera that last erupted in 1912, 1937 and 1988.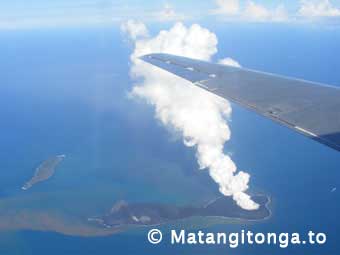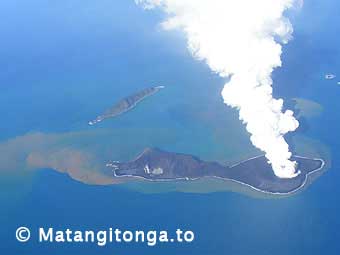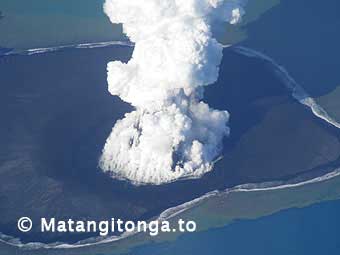 Glowing
Shane Egan who runs the Blue Banana cottages at Kanokupolu Beach said that on Day three of the Hunga Ha'apai eruption yesterday, "it was still puffing away like huge smoke signals with vertical, grey-black columns shooting through the lower clouds."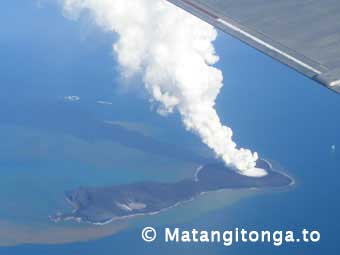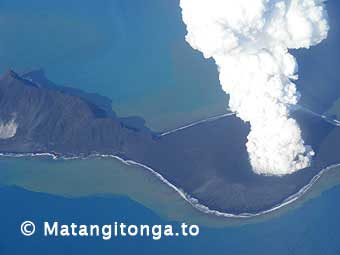 He said that last night some of their guests were treated with a show of volcanic action from 8:00pm until around 10:00pm from the eruption on the northwestern horizon. "The sky glowed orange while red lava and white sparks flew into the air.
"This morning thick low cloud covered the horizon but as it cleared the grey plume of smoke is still visible. The black eruptions seem to have settled," he said.
Passengers on the domestic flights from outer islands coming in to Tongatapu were treated with the spectacular sight of the smoking volcanic island that has grown in size over the last three days.
Tour charters
Flights around the eruption have been fully booked today. Chatham Pacific Tonga's General Manager Russell Jenkins said that the first flight at 3:00 pm this afternoon on an eight seater aircraft was fully booked at a cost of $200 pa'anga per person. "If there continues to be a demand we will conduct one or two more flights tomorrow."
The hour long flight will take around 20 minutes to get to the location and then they will fly around for another 20 minutes so passengers could view the eruption.
Game-fishing charter boat owner Mohammed Razak said he took out six people at 6:00 am this morning charging $260 per person. "We have received requests from overseas visitors for another charter tomorrow but that will depend on the weather. This morning the smoke was going down," he said.
Meanwhile, the government geologist Kelepi Mafi has warned people not to go near the area, which is still extremely dangerous.