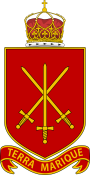 His Majesty's Armed Forces
Scholarship
International Cadet and Midshipman
As part of HMAF Defence Cooperation with US Department of Defence, the United States Military Academy at West Point and the United States Naval Academy are inviting exceptional young individuals from Tonga to apply for a distinguished position in their incoming classes, starting in June 2024. This is a unique opportunity to gain a top-tier education, develop unparalleled leadership qualities, and join an elite network of global leaders.
Benefits of the Program
Exceptional Education: Earn a Bachelor of Science degree in various academic disciplines.
Global Influence: Connect with an extensive alumni network of influential leaders.
Diverse Career Paths: Explore careers in the military, government, technology, engineering, aviation, and more.
Eligibility Requirement
Leadership Potential: Individuals who exhibit strong character, honor, and a dedication to ethical leadership.
Physical and Mental Strength: Candidates who excel in physical endurance and mental resilience.
Academic Excellence: A strong academic foundation, particularly in mathematics and science and must pass Form 7 or higher qualifications.
Age Requirement: Applicant must be 17-22 years old.
Application Process
Submit your application to the Chief of the Defence Staff, HMAF Headquarters, including:
Application Letter
Relevant Certificates and Transcripts
Reference Letters
Birth Certificate
Police Record
2x passport-sized photos
Application Deadline: 1 December 2023
Contact Us: For queries and assistance, dial 23099 or email hmafhr [at] protonmail [dot] com
--
Matangi Tonga Online ref. #7648 His Majesty's Armed Forces, 21 November - 1 December 2023