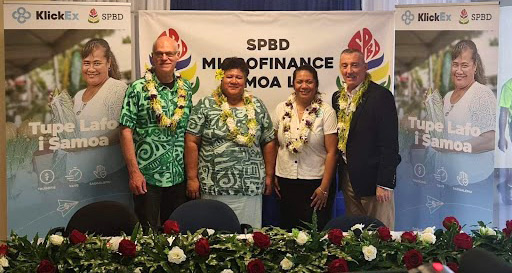 June 7, 2023 – KlickEx Pacific and SPBD today announced a partnership to enable more Samoans abroad to send money home from New Zealand and Australia.  
SPBD Microfinance is in partnership with KlickEx Pacific – a trusted money transfer operator offering a safe and transparent digital payment ecosystem that allows users in New Zealand and Australia to send and receive money into Samoa.  The new money transfer service will commence on July 1, 2023, and will provide an online portal for money transfers from abroad – spbd.klickexpacific.com.
SPBD provides meaningful economic opportunities to low-income women so they can make significant improvements in their lives. SPBD is dedicated to eradicating poverty and empowering members to start, grow and maintain sustainable, income-generating enterprises, build assets, and finance home improvements and childhood education. Enabling Money Transfers now from New Zealand and Australia will further help SPBD members, as well as the Samoan public who choose to use the SPBD Money Transfer service. 
"We are delighted to partner with SPBD to help provide new pathways for Samoans abroad to efficiently and cost-effectively get money back home to Samoa," said Mr Ben Kealy, CEO at KlickEx. "We love the work that SPBD is doing in Samoa and believe that enabling the money transfer corridors will only further help expand their impact and footprint in Samoa and the other markets they operate in".
Speaking at the launch, Mr Greg Casagrande, President and Founder of SPBD Microfinance Network, said, "I'm very pleased to be spearheading positive change for the Pacific's financial landscape. As a Pacific Island microfinance business, financial inclusion is critical to SPBD, and we need to ensure that family and friends here and abroad can get money back home safely and cost-effectively. Enabling money transfers from New Zealand and Australia is a great way to further help our members, as well as the broader public, in Samoa."
SPBD and KlickEx will provide cash-out agents for the money transfer service via the two SPBD outlets at Salelologa and the SNPF Plaza, Savalalo.  
Casagrande said, "This launch is the result of incredible teams working together over the past few months, and although I can't thank them all individually, I would like to thank the SPBD and KlickEx teams and say a special fa'afetai tele lava for the support and commitment from the Central Bank of Samoa."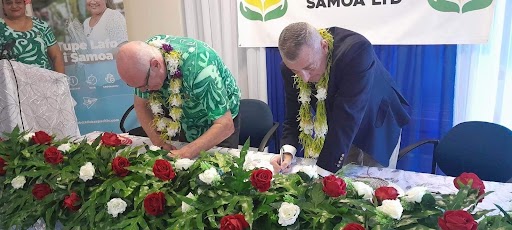 About KlickEx Pacific:
Founded in 2009, KlickEx is all about bridging social and economic gaps. It is a payments infrastructure focused on providing cross-border transfer services and has been dedicated to its pursuit to provide Digital Financial Inclusion to the Pacific to allow consumers to send money back home to the islands from Australia and New Zealand.
KlickEx also operates in Tonga, Fiji, Vanuatu and the Cook Islands.  In addition, with its recent acquisition by Nomu Pay Limited, based in Dublin – KlickEx is now part of a global financial services provider with offices on four continents.
Key benefits of using KlickEx's overseas money transfer services include:
Quick – 95% of transfers are ready in minutes.
Secure – KlickEx uses industry-leading technology to protect our customers' money transfers.
Easy and cost-effective – competitive exchange rates and lower fees than most conventional banks and money transfer services.
About South Pacific Business Development (SPBD):
Founded in 2000, SPBD's mission is to improve the quality of life of underprivileged families by providing them meaningful economic opportunity to help lift them permanently out of poverty.  SPBD is especially focused on empowering women to start, grow and maintain micro-businesses through the provision of access to financial and business development services as well as the opportunity to build assets, improve financial security and finance housing improvements and education. 
SPBD's vision is to create a network of financially self-sufficient and scalable micro-enterprise development organizations throughout the South Pacific.  
SPBD has disbursed 310,000 small loans totalling USD $250M to hardworking, low-income entrepreneurs in the South Pacific since inception, 99% of whom are women.  SPBD operates in nearly 2,000 communities across 5 countries – Samoa, Tonga, Fiji, the Solomon Islands and Vanuatu – and employs a dedicated staff of 175 professionals.  SPBD currently has 21 offices and offers 16 products and services, including credit, savings, death benefits, financial education and business skills training to its members.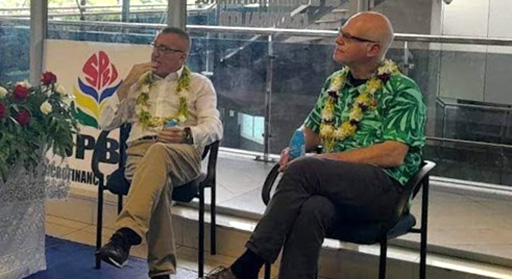 --
Sponsored Promoted Content, #7379, sponsored by by KlickEx. 17 June -24 July 2023.