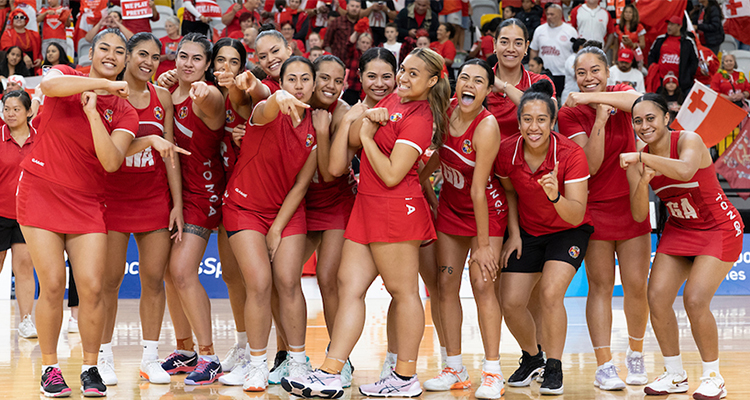 By Linny Folau
Tonga's national netball team, the undefeated Tala took over Malawi 41-54 in an electrifying match to win the PacificAus Sports Netball Series 2023 on 29 April, in Australia.
Tonga claimed its third PacificAus Sports Netball Series title, after winning all of its matches by defeating Fiji 68-52, Samoa 79-53, Singapore 85-40, Kenya 71-44 and Zambia 59-47. 
Broadcasted live in Tonga, Tala defeated Malawi by 13 goals, in the battle between the sixth and seventh ranked teams in world netball. 
Tonga's Uneeq Palavi was named the match MVP with teammate Hulita Veve claiming the series MVP alongside Samoa's Abigail Latu-Meafou.
Tala will be on the worldwide stage at the 2023 Netball World Cup starting in July in South Africa.
Captain Hulita Veve told Matangi Tonga today that to win is a feeling they can't describe and to take out the competition undefeated three times in a row and beat Malawi, that was ranked 6th in the world is something they are very proud of.
"It didn't come easy, we were pushed and challenged this week more than we've been before which was great for us to be exposed to before we head to the World Cup. So to be able to come away with the trophy is huge for us and for our country. Our purpose and drive is God, King an d country and all our families, and I always remind the girls when your legs can't run anymore, run with your heart, and that for us got us through the week undefeated."
Hulita said they have bruised, sore with tired bodies for six games in a row but they played with so much heart, purpose and pride.
"We had something very magical about our group that connects us off the court which then translates on court. We knew it was going to be a tough week but we stood faithful, kept God on our side and stepped up to the challenge and so to be able to win, we just give that glory to God, she said.
Head Coach Jaqua Pori Makea-Simpson said adjusting to the style of play from the African nations was a challenge as it was physical and a less orthodox than they are used to.
"We struggled a little with consistency but built throughout the week. This was the most we have been challenged, and we responded beautifully. It takes an army to prepare a team and have great support from the people around us to help make this all happen."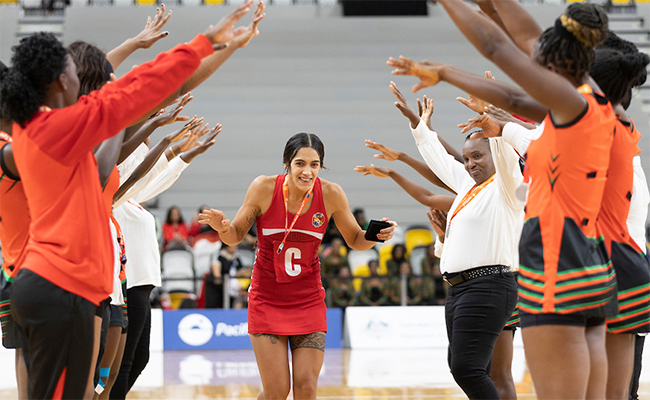 Tonga Netball CEO, Salote Sisifa said third times the charm for Tonga's Tala and this was no coincidence, this was hard work by all involved with and around Tala, which produced results continuously.
"At the same time, there are the players, their families, coaching staff, administration, partnership with Netball Australia, our Government, a nation all contributing to Tala's success, where each one falls under these categories. Each partner plays their role and the results are executed on court by the team because what happens on top trickles down and into court, she said.
"I am very grateful to Hulita Veve as captain, the players and also to Jaqua and her coaching staff, where all the hard work lies and the sacrifices they make to represent Tonga well. We are not just a team, we are family. Our priorities are in line that all we do with Tala, those of us (administrators) we call the team behind the team and for the team, we do this for God, King and country. Her Majesty Queen Nanasipau'u's unwavering behind the scenes support and blessings for Tala has played a huge role in this success."
At the same time, Salote said finance has always been an obstacle to getting teams to competition but they are very thankful for the support of Netball Australia with Pacific Aus Sports and also the Government of Tonga enabling Tala to get to competitions and come through with logistics needed for the team to perform at their best.
"Where Tala is now was a goal in Tonga Netball's strategic plan set with we hoped to achieve by 2028 but to smash this goal five-years ahead, we have nothing but gratitude."